Best Gimbals for Nikon D780 in 2023
Featuring a 24.5MP FX-Format BSI CMOS Sensor and EXPEED 6 Image Processing Engine, the Nikon D780 supports 7 fps burst shooting via the viewfinder and 12 fps in live view, along with UHD 4K30p video and Full HD 120p recording – offers remarkable capabilities for both photography and videography. This versatile camera holds great appeal in various domains such as weddings, wildlife, and production due to its professional-grade potential. However, for achieving impeccably smooth and stable videos, pairing it with a top-notch gimbal is imperative.
Within this comprehensive guide, we'll help you get the top recommended gimbals for the Nikon D780 DSLR camera. Our selections have undergone meticulous evaluation, considering vital aspects like payload capacity, battery life, unwavering stability, and affordability.
Whether you're a seasoned cinematographer venturing deeper into your craft or a passionate content creator committed to capturing life's treasures with unparalleled fluidity, our curated assortment of gimbals caters to various aspirations and budgets. Without delay, let's plunge into exploring the best gimbals for the Nikon D780 DSLR camera.
And if you're interested in other accessories for your Nikon D780, be sure to check out our Nikon D780 Lens Guide and Nikon D780 Memory Card Guide for even more helpful recommendations.
Nikon D780 Store Links at Amazon, B&H, Adorama.
---
Best Gimbals for Nikon D780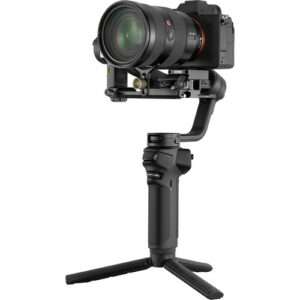 Zhiyun WEEBILL 3S Key Features:
Max. Payload: 14.33 lb / 6.5 kg
Battery Runtime: 11.5 Hours (2600 mAh)
Battery Charging Time: 2 Hours (Supports 14W PD Fast-charging)
Connections: Bluetooth 5.0, USB-C
Display: 0.96-inch Non-touch Single-color screen
Smartphone App: Yes
Compatiblitle Cameras: Click Here to Check
Weight: 2.33 lb / 1.05 kg
Dimensions: 305 x 210 x 72.5 mm (Folded)
Warranty: 1 year
Special Feature: Optimized 2.5 Sling Structure, Integrated 1000 Lux Fill Light, Landscape / Portrait integrated quick release plate, Bluetooth Shutter Control, Native Portrait Shooting, Control Wheel, Trigger Button
Pros:
Incredibly comfortable
Built-in light
Handles heavy cameras
Competitively priced
Landscape / Portrait integrated quick release plate
Powerful motor and stabilization
Easy trigger and wheel control
Extended handle grip and wrist support
Cons:
The Zhiyun Weebill 3S stands out as a top-tier compact gimbal with a capacity to support heavier payloads, making it a high-end choice for professional videographers seeking exceptional stability. With an impressive maximum payload of 14.33 lbs (6.5 kg), this gimbal can handle hefty DSLR and mirrorless cameras with ease, ensuring smooth, cinematic shots.
This gimbal shines through its array of features. The integrated fill light, boasting Lumen Amplifier technology, enhances lighting and shadow effects at the touch of a button, reaching up to 1000Lux. The new Sling Mode 2.5 introduces energy-saving, adjustable sling grip options, enabling creative low-angle and sling mode shooting scenarios. The addition of Bluetooth shutter control streamlines the shooting process with convenient wireless camera interaction.
The WEEBILL 3S excels in function control, with its flight joystick, customizable trigger button, and control wheel, empowering users to capture the perfect shot effortlessly. The revolutionary portrait switch and landscape/portrait integrated quick release plate provide flexibility for various orientations, ideal for content creators on different platforms.
Boasting a formidable 11.5-hour battery runtime, fast 2-hour PD charging, and wireless Bluetooth 5.0 technology, this gimbal promises endurance and seamless connectivity. Despite these remarkable attributes, the WEEBILL 3S remains competitively priced.
While the small OLED screen is a minor drawback, the Weebill 3S offers unparalleled comfort, robust motor performance, and an extended handle grip with wrist support. Overall, this gimbal earns its place as a reliable companion for filmmakers seeking to elevate their creative projects with smooth, professional-grade footage.
Zhiyun WEEBILL 3S Gimbal Stabilizer: $319 at Amazon, B&H.
---
Zhiyun's best gimbal for heavier cameras
Zhiyun CRANE 4 Key Features:
Max. Payload: 13.2 lb / 6 kg
Battery Runtime: 12 Hours (2600 mAh)
Battery Charging Time: 1.5 Hours (Supports PD Fast-charging)
Connections: Bluetooth 5.0, USB-C
Display: 1.22″ Color Touchscreen
Smartphone App: Yes
Compatiblitle Cameras: Click Here to Check
Weight: 3.68 lb / 1.67 kg (without Tripod)
Dimensions: 340 x 280 x 70 mm
Warranty: 1 year
Special Feature: Extended Arm for Full-Frame Lenses, Dual-Layer Quick Release Plates, 360° Pan, 207° Tilt, 70° Roll Rotation, Built-In 3200 Lux Fill Light, Adjustable Color Temperature, Creative Operation Modes, 1.22″ Touchscreen, Balance Indicators
The Zhiyun CRANE 4 is a revolutionary gimbal that redefines stability and control for filmmakers and content creators. This lightweight gimbal boasts an impressive load capacity of 13.2 lbs, making it compatible with a range of heavy full-frame cameras and cinema setups. The extended arm length and powerful motors ensure precision and portability, allowing for smooth and dynamic camera movements.
One standout feature of the CRANE 4 is its built-in balance indicator lights, present at each motor. These lights provide a quick visual reference for balance calibration, ensuring precise and reliable stabilization. The Bluetooth connectivity enables direct shutter control for supported cameras, eliminating the need for cumbersome cables and enhancing remote shooting capabilities.
The gimbal's design incorporates thoughtful details like an adjustable sling grip and ergonomic wrist rest, enhancing comfort during prolonged use. The included 10W fill light offers powerful illumination, with adjustable color temperature to suit various shooting scenarios. The 1.22-inch color touchscreen and onboard controls provide seamless access to various shooting modes, balance settings, and real-time information.
The CRANE 4's impressive battery life, powered by four high-capacity 18650 batteries, offers up to 12 hours of continuous operation. Thanks to PD fast charging technology, recharging takes under two hours, ensuring minimal downtime.
With the ability to integrate follow-focus motors, remote monitoring systems, and ZHIYUN's TransMount Image Transmission system, the CRANE 4 provides unmatched versatility and creative possibilities. Its dual-layer quick release plates and comprehensive range of features make it an indispensable tool for filmmakers seeking precision, control, and professional-grade results.
Zhiyun CRANE 4 Gimbal Stabilizer: $669 at Amazon, B&H, Adorama.
Zhiyun CRANE 4 Gimbal Stabilizer Combo Kit: $749 at Amazon, B&H, Adorama.
---
A great gimbal aimed at professional filmmakers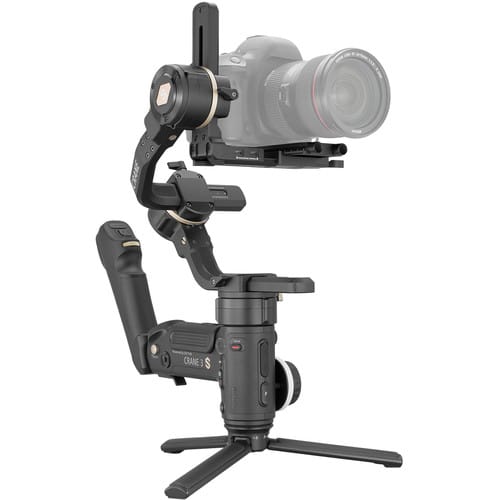 Zhiyun CRANE 3S Key Features
Max. Payload: 14.3 lb / 6.49 kg
Battery Runtime: 12 Hours (2600 mAh)
Connections: Bluetooth 5.0, USB-C
Display: No
Smartphone App: Yes
Compatiblitle Cameras: Click Here to Check
Dimensions: 346 x 344 x 98 mm
Weight: 5.45 lb / 2.47 kg
Warranty: 1 year
Special Feature: Redesigned Detachable SmartSling Handle, Zoom and Focus Wheel, Updated Axis Locking System, ViaTouch 2.0 Remote Motion Control, 55° Angled Roll Axis, DC Input for Direct Power and Charge, Mounting Threads for Accessories, Onboard Controls, Powerful Motors
Pros
6.49 kg payload
Sturdy build quality
Quick-release plate
Dual carrying options
Powerful enough serious cine gear
Cons
Very heavy for handheld use
No built-in wireless transmitter
Some controls awkwardly placed
The Zhiyun Crane 3S emerges as a robust and indispensable tool for professional filmmakers seeking top-tier stabilization. With a focus on heavy-duty performance, this gimbal doesn't disappoint. Its remarkable capacity for supporting weighty cine gear and extended battery life is striking. However, its weight might deter run-and-gun enthusiasts as it's more suited for planned shoots.
The redesign of the Crane 3S from previous Zhiyun models showcases the brand's commitment to innovation. This gimbal boasts detachable handle options, a substantial 6.5 kg payload, revamped axis-locking mechanism, external power input, and the advanced ViaTouch 2.0 motion control system. It's a commendable upgrade over its predecessor, the Crane 3 Lab, with an impressive 45% payload increase.
The inclusion of the detachable EasySling and SmartSling handles adds versatility to the Crane 3S. The EasySling enhances upright and underslung use, while the SmartSling introduces a dedicated control panel for seamless camera and gimbal adjustments. The possibility of employing both handles concurrently is a noteworthy feature.
Zhiyun's dedication to refining its products is evident, as the Crane 3S caters to a wide range of cameras while ensuring smooth and steady footage. The gimbal's performance is exceptional, offering a great payload capacity and enduring battery life. Although its heft might discourage spontaneous usage, it undoubtedly excels in capturing handheld or ground-level shots with cine gear beyond regular mirrorless setups.
For professional filmmakers and videographers seeking adaptability, the Crane 3S stands out as a premium choice. Its blend of features, power, and performance at its size and price range is hard to beat, making it a vital asset for any serious filmmaker. However, it's essential to note that while the Crane 3S boasts an array of controls and functions, users have the flexibility to utilize only what they need.
Zhiyun CRANE 3S Handheld Stabilizer: $599 at Amazon, B&H, Adorama.
---
Great Value Gimbal
DJI Ronin-SC Key Features:
Max. Payload: 4.85 lb / 2.2 kg
Battery Runtime: 11 Hours (Non-removable, 2450 mAh)
Battery Charging Time: 2.5 Hours
Connections: Bluetooth 5.0, USB-C
Display: None
Smartphone App: Yes
Compatiblitle Cameras: Click Here to Check
Dimensions: 220 x 200 x 75 mm (Folded), 370 x 165 x 150 mm
Weight: 2.43 lb / 1.1 kg (with Handlebar)
Warranty: 1 year
Special Feature: ActiveTrack 3.0 Subject Tracking, 360° Panorama & Time-Lapse Control, Motor Protection, Quick Release Slider, Force Mobile Smartphone Control, Control & Configure via Android/iOS App, Lightweight & Compact.
Pros
Great build quality
Reliable stabilization
Ease of use
3-axis locks make setup easier
Advanced smartphone features
Affordable
Cons
Unstable with a heavier payload
Won't fit the Peak Design Capture plate
The DJI Ronin-SC is an excellent choice for filmmakers seeking a budget-friendly yet high-performing motorized gimbal tailored for light cameras. With its ability to deliver smooth, cinematic shots, this gimbal is a must-have for mirrorless camera users weighing under 2kg.
Setting up the Ronin-SC is a breeze, thanks to its simplified balancing system and sliding quick release camera plate. The roll axis automatically balances through a smartphone app, while the pan, tilt, and roll axes feature axis locks for secure transportation.
Priced at just $279, the Ronin-SC offers exceptional value for money, boasting top-notch construction and reliable stabilization for capturing stunningly smooth footage with a cinematic touch. Its user-friendly design allows for quick deployment, saving time on configuration and allowing you to focus on your creative vision.
Whether you're a seasoned professional or a budding filmmaker, the DJI Ronin-SC is an ideal investment for achieving professional-grade shots without breaking the bank. If you own a light mirrorless camera and seek a compact, feature-rich, and affordable motorized gimbal, the Ronin-SC is an outstanding choice. It's effortless to carry around, offers various shooting modes, and even includes a mini tripod for creative timelapse, motion lapse, and panorama shots. All these features can be conveniently controlled through an intuitive app.
The Ronin-SC's smooth stabilization and handheld capabilities elevate the production values of your films, making it a valuable tool for creators seeking an exceptional shooting experience. While it may not handle heavier payloads as effectively and isn't compatible with the Peak Design Capture plate, its overall performance and affordability make it a highly recommended option for filmmakers using light mirrorless cameras.
DJI Ronin-SC Gimbal Stabilizer: $279 at Amazon, B&H, Adorama.
---
DJI RS 2 Key Features:
Max. Payload: 10 lb / 4.5 kg
Battery Runtime: 12 Hours (1950 mAh / 30.3 Wh)
Battery Charging Time: 1.5 Hours
Connections: Bluetooth 5.0, WIFI, USB-C
Display: Advanced 1.4″ Full-Color LCD Touchscreen
Smartphone App: Yes
Compatiblitle Cameras: Click Here to Check
Dimensions: 410 x 260 x 195 mm
Weight: 1.07 kg / 1.177 kg (with Camera Plate) / 1.337 kg (with Handlebar)
Warranty: 1 year
Special Feature: RS 2 + 1080p Transmitter, Servo & More, Supports BMPCC 6K, ALEXA Mini LF, 1D X, SuperSmooth Feature for Long Lenses, Standard & Portrait Modes, Fine-Tune Camera Balancing Dial, Creative Functions Such as Time Tunnel
Pros
Supports up to 4.5kg (10 lbs)
1.4″ Full-Color LCD Touchscreen
12 Hours battery life and fast charging
DJI Titan stabilization algorithm
Creative functions such as Time Tunnel and Force Mobile
Single-tap switching to portrait mode
Splash-proof carry case included
SuperSmooth stabilization feature for long zoom lenses
Supports larger cameras such as the Blackmagic Pocket 6K and ALEXA Mini LF
Cons:
The DJI RS 2 Pro gimbal, although succeeded by the RS 3 Pro, still shines as an exceptional choice for videographers. This successor to the Ronin-S is a remarkable evolution, boasting a 10 lb payload capacity – an impressive leap from its predecessor. Innovations like monocoque carbon fiber axis arms and a compact grip handle, now house a smaller battery cartridge that sustains a generous 12-hour runtime while reducing the overall weight by a commendable 25%.
Its powerful motors, augmented by 20%, extend compatibility to cameras like the Blackmagic Pocket 6K, Canon 1D X Mark III, Sony a7S III, and ALEXA Mini LF, providing an expansive creative canvas. The 1.4″ full-color LCD touchscreen ushers in newfound convenience, granting access to gimbal settings and advanced features like time-lapse and hyperlapse directly on the device.
Employing DJI's Titan stabilization algorithm, the RS 2 presents an improved stabilization experience, prioritizing seamless movement. Notably, the SuperSmooth feature enhances performance for up to 100mm zoom lenses by counteracting micro-movements, augmented with torque for fluid motion (an optional lens support is recommended).
Innovative RSA ports host dedicated accessories, offering versatility for the most demanding projects. The DJI Ronin app serves as a creative hub, housing various features including the dynamic Time Tunnel and precise Track, all while Force Mobile and RavenEye transmission open new dimensions for control and real-time monitoring.
The RS 2's dual-layer Manfrotto and Arca-Swiss mounting system facilitates swift camera adjustments, including portrait mode for social media content. Axis locks and a fine-tune balancing knob perfect alignment, while a rechargeable battery cartridge, offering 24W fast charging compatibility, ensures uninterrupted operation.
Completing the package is a splash-proof carry case, a mini tripod for flexible positioning, and the Pro Combo bundle including the RavenEye Image Transmission System, focus motor, phone holder, focus gears, and HDMI cables. The RS 2's specs and features – including the advanced 1.4″ touchscreen, SuperSmooth capability, and creative functions – solidify its status as a versatile, high-performance gimbal choice.
DJI RS 2 Gimbal Stabilizer Pro Combo: $649 at B&H, Adorama, Amazon.
---
We want to express our deep gratitude for choosing our Nikon D780 gimbal guide. We truly believe that our suggestions have been beneficial in helping you find the perfect gimbal that aligns with your specific needs. Your feedback is incredibly important to us, as we are dedicated to consistently providing relevant and informative guides. We enthusiastically encourage you to share your thoughts, as they play a crucial role in refining our content and elevating the overall user experience. If you've had the chance to personally try any of the recommended gimbals, we would greatly appreciate your insights. Your firsthand experiences not only assist other readers but also empower them to make well-informed decisions.
Read more: