Best Sony a7R V Batteries & Chargers
Looking for the best Sony a7R V batteries & chargers? In this guide, we will help you get the top recommended battery and battery chargers for the Sony a7R V mirrorless camera.
When unboxing the brand-new Sony a7R V camera, you'll find it equipped with a Sony NP-FZ100 Rechargeable Lithium-Ion Battery boasting a 2280mAh capacity, along with a Sony BC-QZ1 Battery Charger and a USB Type-C to Type-A Cable. In this guide, we'll explore a comprehensive range of battery, battery charger, and battery grip options for the Sony a7R V, encompassing both official and third-party selections.
Be sure to check out our other detailed Sony a7R V guide for even more helpful recommendations:
Sony a7R V Store Links: Amazon, B&H, Adorama.
Best Batteries for Sony a7R V
The official supported battery for the Sony a7R V is the Sony NP-FZ100 Rechargeable Lithium-Ion Battery (2280mAh). When purchasing a brand new a7R V camera, this battery is included in the package, ensuring you have a reliable power source.
I strongly advise sticking to the official Sony batteries for your device. While it might be tempting to explore cheaper third-party battery options, I strongly advise against it, particularly when dealing with a high-value camera like the a7R V. Sony has actively engaged in legal battles against third-party battery manufacturers in recent years. Consequently, using these alternatives can be fraught with risks. In some cases, third-party batteries may trigger warning messages when inserted into the camera, and firmware updates might subsequently detect them, leading to persistent warnings upon every power-up. Consequently, despite occasional recommendations for third-party batteries, I strongly discourage their use in the Sony a7R V due to potential complications and uncertainties. For optimal performance and peace of mind, stick with the official Sony NP-FZ100 battery.
The official battery for the Sony a7R V is the Sony NP-FZ100 (2280mAh) rechargeable battery.
While the official battery might come with a higher price tag, I strongly recommend prioritizing its use over considering third-party alternatives. This advice stems from two critical factors. Firstly, third-party batteries can introduce compatibility issues, potentially hampering your camera's functionality. Secondly, these alternatives may pose a genuine risk of harming your Sony a7R V.
Opting for the Sony NP-FZ100 not only guarantees seamless integration with your camera but also safeguards its long-term performance. By choosing the official battery, you reduce the likelihood of encountering frustrating compatibility glitches and potential harm, thus preserving both your a7R V's functionality and lifespan. In this scenario, the additional cost serves as a prudent investment in the safety and dependability of your photography equipment.
Sony NP-FZ100 Rechargeable Lithium-Ion Battery: $78 at Amazon, B&H, Adorama.
---
If you do insist on trying a third-party battery, then the Watson NP-FZ100 Lithium-Ion Battery (2250mAh) stands out as a viable choice.
However, it's important to note that there haven't been any documented tests of these batteries in the Sony a7R V yet. As a result, it's uncertain whether they will trigger any warnings or compatibility issues. I would advise refraining from purchasing them at this time. If you've had experience with these batteries in your Sony a7R V, please share your insights in the comments below. Your feedback would be greatly appreciated.
Watson NP-FZ100 Battery Pack: $49.95 at B&H.
---
Best Battery Chargers for Sony a7R V
Let's now explore the available options for charging your Sony a7R V batteries.
The Sony BC-QZ1 is the official charger for the Sony NP-FZ100 battery, and it comes included in the box when you purchase a new Sony a7R V. When connected to a mains-powered socket, this charger will fully charge an official NP-FZ100 battery in approximately two hours.
Sony BC-QZ1 Battery Charger: $98 at Amazon, B&H, Adorama.
---
Enhance your shooting endurance with the Sony NPA-MQZ1K Multi Battery Adapter Kit. Designed for extended photography sessions, this kit can simultaneously charge up to 4 NP-FZ100 batteries in around 480 minutes while also powering two USB devices and the a7R V camera. The package includes two NP-FZ100 batteries, a cable protector, and a mounting plate.
Compatible with cameras that use NP-FZ100 or NP-FW50 batteries, the NPA-MQZ1K acts as a powerhouse by supplying power from four battery packs, dramatically prolonging shooting times. It can transform into a compact two-battery adapter for travel convenience. This versatile adapter features two USB ports for charging other devices, supported by a three-level LED indicator for charge status checks.
Boasting six 1/4″-20 mounting sockets for various setups, the NPA-MQZ1K kit comes with NP-FZ100 battery packs, making it ideal for beginners. This adapter empowers both NP-FZ100 Z-series and Z- or W-series battery-compatible cameras, ensuring uninterrupted shooting and versatile power distribution. With its ability to charge multiple devices, it's a valuable addition to your photography gear. The inclusion of two Sony NP-FZ100 batteries completes this adaptable kit, ready to extend your shooting capabilities.
Sony NPA-MQZ1K Multi Battery Adapter Kit: $398 at Amazon, B&H, Adorama.
---
Offering a reliable alternative for charging, the Watson Mini Duo Charger is an excellent third-party option. This charger efficiently replenishes two NP-FZ100 batteries within approximately 5 hours. Notably, it boasts built-in safeguards against overcharge, short-circuit, and power surges, prioritizing battery safety.
The Watson Mini Duo Charger accommodates simultaneous charging of two Sony NP-FZ100 batteries, utilizing either USB or AC power sources. Featuring two independent bays, it allows you to charge a single battery or both backups concurrently. The charger's LCD screen provides clear charging status updates for each battery, simplifying tracking of their progress.
Included in the package are a micro-USB cable and a USB power adapter, enhancing its versatility in charging options. The charger's micro-USB cable can be used with portable battery packs, and the USB power adapter suits various settings such as offices, hotels, or airports.
Prioritizing battery protection, the Mini Duo Charger is fortified with overcharge, short-circuit, and power surge protections. This ensures the safety of your batteries during charging, making it a trustworthy accessory for your photography equipment.
Watson Mini Duo Charger for Sony NP-FZ100 Batteries: $24.95 at B&H.
---
Best Battery Grip for Sony a7R V
The Sony a7R V is compatible with the Sony VG-C4EM battery grip, which is also utilized by the Sony a7R IV, Sony a7S III, Sony a1, Sony a9 II, and Sony a7 IV.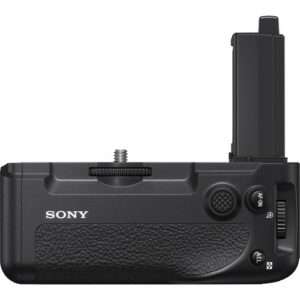 Sony VG-C4EM Vertical Grip Key Features:
For Select Sony Mirrorless Cameras
Holds One or Two NP-FZ100 Batteries
Extended Grip for Vertical Shooting
Second Shutter Button and Multi-Selector
USB Charging via Camera Body
Weather-Sealed Magnesium Alloy Design
The Sony VG-C4EM Vertical Grip is an essential accessory designed exclusively for Sony mirrorless cameras, including the a1, a7 IV, a7R V, a7R IV, a7S III, and a9 II. It provides users with an extended battery life and a more comfortable grip, particularly when shooting in a vertical orientation. This grip accommodates one or two NP-FZ100 batteries, effectively doubling your camera's operational time for extended shooting sessions. Notably, the batteries can be conveniently charged within the grip while attached to the camera via the camera body's USB port.
The VG-C4EM's ergonomic design mirrors the layout of the camera body, ensuring a consistent and comfortable feel whether you're shooting horizontally or vertically. It boasts a secondary shutter button, a Multi-Selector, and additional custom buttons (C1 and C2) on top, enhancing ease of use. The rear of the grip features a joystick, AF-On button, aperture dial, and AEL button for seamless control.
To attach the grip, you simply remove the battery door from the camera, store it within the grip, and insert the column into the battery compartment, securing it with the fitting screw. This seamless integration matches the camera body's materials and button feel, providing a cohesive and comfortable shooting experience.
While the Sony VG-C4EM Vertical Grip is an investment, its compatibility and quality make it a preferred choice over third-party alternatives. Unlike some third-party grips with unpleasant odors, the VG-C4EM delivers a seamless and reliable pairing with the camera body. Additionally, the grip is designed with weather-sealed magnesium alloy construction, ensuring it can withstand dust and moisture, just like the camera itself.
In summary, the Sony VG-C4EM Vertical Grip enhances your camera's performance with extended battery life, ergonomic design, and seamless integration, making it an ideal choice for serious photographers using Sony mirrorless cameras.
Sony VG-C4EM Vertical Grip: $398 at Amazon, B&H, Adorama.
---
We extend our heartfelt gratitude for choosing our Sony a7R V Battery & Charger Guide. We believe our recommendations have been instrumental in assisting you in finding the perfect battery and charger to suit your unique needs. We wholeheartedly invite you to share your feedback, as it plays a pivotal role in improving our content and elevating the user experience. If you have had the chance to personally assess any of the recommended accessories, your insights would be invaluable. Your firsthand experiences not only benefit fellow readers but also empower them to make informed decisions.
Read more: