Best Gimbals for Google Pixel 8 & Pixel 8 Pro
Looking for the best gimbals for Google Pixel 8 & Pixel 8 Pro? This guide will help you get the top recommended gimbals for Google Pixel 8 & Pixel 8 Pro smartphones.
Renowned for their exceptional camera capabilities, the Google Pixel 8 and Pixel 8 Pro have become the go-to choice for content creators, vloggers, and photography enthusiasts alike. Regardless of whether you're a professional content creator, an enthusiastic vlogger, or simply someone who cherishes capturing life's moments with utmost clarity, the selection of the right gimbal for your Google Pixel 8 & Pixel 8 Pro can dramatically elevate your mobile videography and photography endeavors.
Within this guide, we have thoughtfully curated a collection of the best gimbals for Google Pixel 8 & Pixel 8 Pro smartphones. These gimbals are meticulously chosen to provide steady shots and fluid movements, empowering you to transform your creative visions into reality. Our rigorous testing and comprehensive reviews encompass a range of leading options from renowned brands such as DJI, Zhiyun, Insta360, and Hohem. We present to you the top performers in categories such as portability, payload capacity, extended battery life, unwavering stability, and affordability. Without further delay, let's embark on a journey to explore the top recommended gimbals for enhancing your experience with the Google Pixel 8 & Pixel 8 Pro smartphones.
Best Gimbals for Google Pixel 8 & Pixel 8 Pro
The best overall smartphone gimbal
DJI Osmo Mobile 6 Key Features:
Weight: 10.9 oz / 309 g
Load Capacity: 6 to 10.2 oz / 170 to 290 g
Battery Runtime: 6.4 Hours
Charging Time: 1.5 Hours
Dimensions Unfolded: 276 × 111.5 × 99 mm
Dimensions Folded: 189 × 84.5 × 44 mm
8.5″ built-in extension rod, magnetic mounting system
New Display Panel
New Side Wheel
Horizontal and vertical shooting support
DJI Mimo app with ActiveTrack 5.0
Tutorials, Timelapse, Hyperlapse, Panorama
Pros
Compact and Portable
Useful 8.5-inch extension rod
Robust build quality
Great ergonomics
Fast and seamless setup
Capable DJI Mimo app
Convenient controls
Great stabilisation
Improved ActiveTrack Subject tracking
Mode selection from the handle
Quick startup on Apple devices
Cons
Quick Launch feature exclusive to iPhone
Foldable design limits panning range
The DJI Osmo Mobile 6 stands as the epitome of smartphone gimbals, embodying the pinnacle of performance and ease of use. Its compact and portable design make setup a breeze, and the improvements from its predecessors are immediately noticeable. The inclusion of an 8.5-inch extension rod elevates the creative potential, allowing for dynamic and varied shots.
One of its standout features is the enhanced stability, owed to the ActiveTrack 5.0 technology. Tracking subjects seamlessly is a given, showcasing its prowess in capturing quality footage whether you're filming yourself or the world around you. The DJI Mimo app further enriches the user experience, offering an array of shooting modes and functions that bring a touch of cinematography-level finesse.
The Osmo Mobile 6 impresses with its robust build and ergonomic design, fitting comfortably in hand and ensuring a quick, seamless setup, especially for Apple devices. The magnetic mounting system is a stroke of brilliance, allowing swift phone attachment. The integrated intelligent sensor is a small yet significant detail, adding to the overall user convenience.
In conclusion, the DJI Osmo Mobile 6 is a must-have for content creators, vloggers, and mobile filmmakers seeking top-notch stabilization, versatility, and ease of use in a smartphone gimbal. With its competitive price and an impressive array of features, this gimbal should be at the top of every enthusiast's list.
DJI Osmo Mobile 6 Smartphone Gimbal: $149 at Amazon, B&H, Adorama.
---
Zhiyun Smooth 5S Key Features:
Weight: 1.4 lb / 625 g
Load Capacity: 5.3-10.6 oz / 150-300 g
Battery Runtime: 2.5-24 Hours
Charging Time: 2 Hours
Dimensions: 311 x 168 x 52 mm
For Phones 2 to 3.5″ Wide, 0.4″ Thick
Integrated 5000K Color Temp Fill Light
360° Rotation
3-Axis Stabilizer for Vlogging
2-Hour PD Charge | Up to 25-Hour Runtime
Live Streaming via Mobile App
Various Templates & Gimbal Modes
Sturdy Motors, Upgraded Algorithm
Detachable Tripod, USB-C Charging Cable
The Zhiyun Smooth 5S Smartphone Vlogging Stabilizer is a remarkable upgrade, featuring several enhancements that elevate your mobile videography experience. The integrated fill light, with a 5000K color temperature and 90+ CPI rating, brilliantly illuminates your subject. The 360° rotation and optimal stabilization ensure you capture dynamic shots while preserving video quality.
This gimbal impressively accommodates a wide range of smartphones, even those with external lenses, offering a magnetic motor system, upgraded algorithm, and a wider clamp for exceptional performance. The wider space between each axis allows for cinematic angles, adding a creative dimension to your videos.
Intuitive panel control and quick-switch modes streamline the operation, while a robust runtime of up to 25 hours ensures uninterrupted shooting. The 2-hour PD charging is a lifesaver for users on the move. The inclusion of three dedicated apps—ZY Cami, StaCam, and Filmic Pro—catering to different skill levels, enriches your creative possibilities, from live streaming to pro-level controls.
Whether you're a vlogger, filmmaker, or content creator, the Zhiyun Smooth 5S stands as a versatile and reliable tool, boasting a sturdy design, detachable tripod, and a convenient USB-C charging cable. It's a must-have for anyone seeking to capture professional-grade footage with their smartphone.
Zhiyun Smooth 5S Smartphone Gimbal Stabilizer: $169 at Amazon, B&H, Adorama.
Zhiyun Smooth 5S Smartphone Gimbal Stabilizer Combo: $219 at Amazon, B&H, Adorama.
---
Excellent GIMBAl, a value alternative!
DJI OM 5 Key Features:
Load Capacity: 6 to 8.1 oz / 170 to 230 g
Smartphone Dimensions: Width: 2.64 to 3.31″ | Height: 0.3 to 0.4″
Battery Runtime: 6.4 Hours
Charging Time: 1.5 Hours
Portable and Foldable
Extension rod for additional 8.5″ length
Weight: 10.3 oz / 292 g
$129 at Amazon.
Pros:
Versatile, compact phone gimbal
Easy to use
Built-in extension rod
Up to 6.5 hours of battery life
Tracking feature improved
Two color options instead of one
Cons:
Expensive
Framerates locked to 30fps
Cumbersome folding arm
Cannot be used to charge phone
The DJI OM 5 Smartphone Gimbal is a stellar choice, especially for those seeking a budget-friendly alternative to the DJI Osmo Mobile 6. Priced permanently at just $129, it offers substantial savings without compromising on quality. Compact and lightweight, the OM 5 excels in portability, making it a top pick for on-the-go videographers.
This gimbal introduces an extension rod, providing an additional 8.5″ length for added flexibility, allowing for creative low-angle shots and effortless group photography. Bluetooth 5 integration and seamless synchronization with the DJI Mimo app unlock a plethora of shooting modes, catering to diverse creative needs, from time-lapses to dynamic zooms and panoramas.
One standout feature is its intuitive control options, enabling not just joystick control but also hand gesture commands for actions like selfie capture and tracking movements. The battery runtime of approximately 6.4 hours ensures extended shooting sessions, and the relatively short 1.5-hour charging time keeps you on the move.
While priced affordably, some drawbacks include locked framerates at 30fps and a slightly cumbersome folding arm. Nonetheless, the DJI OM 5 Smartphone Gimbal presents a compelling blend of convenience, features, and cost-effectiveness, making it an attractive option for both iPhone and Android users.
DJI OM 5 Smartphone Gimbal: $129 at Amazon.
---
Hohem iSteady M6 Key Features:
Load Capacity: 14.1 oz / 400 g
Battery Runtime: 18 Hours
Charging Time: 3 Hours
Weight: 1.2 lb / 551 g (with Battery)
Smartphone Dimensions: Width: 2.3 to 3.9″ / 58 to 98 mm
Responsive Control Interface and Display
Automatic Shooting with Hohen Joy App
For Vloggers and Content Creators
The Hohem iSteady M6 Smartphone Gimbal is an excellent gimbal for smartphone videography, offering professional-grade stabilization to elevate your video content. Equipped with high-torque motors and automated movement programs, this gimbal ensures smooth and captivating shots, making it ideal for travel vloggers and on-the-go content creators.
Sturdiness and stability define the iSteady M6, with a strong tension clip securely holding various smartphones without a hint of wobble. The high-torque iSteady 7.0 stabilization motors effectively stabilize even large and heavy smartphones, allowing for unobstructed wide-angle shots and seamless 360° panning. The inclusion of four 1/4″-20 female threads on both the phone mount and handle allows for versatile accessory attachment, enhancing creative possibilities.
With a generous 2600mAh battery, the iSteady M6 offers an impressive 18 hours of continuous operation, ensuring stability throughout your shooting sessions. Moreover, it can even charge your smartphone for extended shooting.
This gimbal doesn't stop at just stabilization; it boasts automation and smart features that simplify complex cinematic effects. The intuitive controls, OLED display, and app connectivity via Hohem Joy app make operating the gimbal a breeze. From time-lapses to dynamic shooting templates, the iSteady M6 ensures you can craft professional-grade videos effortlessly. For those seeking top-notch stabilization and creative control, the Hohem iSteady M6 stands as an exceptional choice.
Hohem iSteady M6 Smartphone Gimbal: $159 at Amazon, B&H.
---
Insta360 Flow Key Features:
Load Capacity: 4.6-10.6 oz / 130-300 g
Wireless Protocol: Bluetooth 5.0
Battery Runtime: 16 Hours
Weight: 13.0 oz / 369 g
Dimensions: 162.08 x 79.59 x 36 mm (Folded)
3-Axis Stabilization for Smooth Footage
Built-In Selfie Stick and Tripod
Deep Track 3.0 AI Subject Tracking
Slow Motion, Zoom Tracking
SmartWheel Control for Zoom/Mode/Trigger
Auto, Follow, Pan Follow FPV Modes
Magnetic Phone Clamp, 1-Step Deployment
Panorama and Widescreen Mode
Edit with Insta360 App
The Insta360 Flow Smartphone Gimbal Stabilizer redefines smartphone videography with its compact design and powerful features. Weighing just 1.15 lbs, it's ultra-portable, fitting in a bag, and is effortless to set up with its one-step unfold and attach system. The built-in selfie stick and tripod offer diverse shooting angles, while the magnetic phone holder ensures easy and fast mounting.
The 3-axis stabilization cancels out shakes, providing smooth and cinematic footage. Deep Track 3.0 AI tracking technology keeps your subjects in focus with unmatched accuracy, even supporting high frame rate videos and telephoto shots. The gimbal's versatility allows for creative effects and dynamic camera movements, and the SmartWheel offers seamless control over zoom, trigger, and mode settings.
The Flow boasts a remarkable 16-hour battery runtime and supports power bank usage for extended shooting sessions. Additionally, the separately available Flow Spotlight offers reliable lighting with various brightness and color temperature options. With the Insta360 Flow, you can effortlessly capture and create smooth, cinematic clips on the go, making it an essential tool for creators, vloggers, and travelers seeking to add a cinematic touch to their smartphone content.
Insta360 Flow Smartphone Gimbal Stabilizer: $146 at Amazon, B&H, Adorama.
Insta360 Flow Smartphone Gimbal Stabilizer Creator Kit: $209 at Amazon, B&H, Adorama.
---
Most Portable Gimbal, Great Value
Feiyu VLOG Pocket 2 Key Features:
Load Capacity: 8.82 oz / 250 g
Battery Runtime: 9 Hours
1.5-Hour Recharge
Weight: 0.59 lb / 268 g
Lightweight, Foldable Smartphone Gimbal
Quick Startup, No Calibration Required
1/4″-20 Mounting Thread on Bottom
USB Type-C Cable and Tripod Included
Pros:
Compact and sturdy
smooth steady footage
Can be used without FeiyuTech app
Long battery life
Multiple features available when using the app
Included mini tripod
Cons:
No LCD to display gimbal modes
NOT be able to use the phone with a case on.
The App could be more robust
The Feiyu VLOG Pocket 2 is an ultra-compact handheld gimbal stabilizer that is perfect for vloggers who require a highly portable solution. The VLOG Pocket 2 is very lightweight, at just over half a pound, and folds down for easy storage and travel. It is equipped with a quick toggle button to power the gimbal and switch between lock and panning modes, as well as the ability to quickly switch between landscape and portrait modes for your smartphone.
One of the unique features of this gimbal is gesture control, zoom control, AI tracking, portrait mode, and auto Hitchcock zoom. It also has the ability to directly control the original camera and beauty App. While the VLOG Pocket 2 can be used without the FeiyuTech app, the app provides additional functionality such as multiple shooting modes and functions. Despite its small size, the VLOG Pocket 2 is highly durable and provides smooth, steady footage. It has a load capacity of 8.82 oz / 250 g and is capable of stabilizing your smartphone in three axes. This gimbal can be used with most popular smartphones, but it cannot be used with a case on.
One downside of this gimbal is that it does not have an LCD to display gimbal modes, and some users may find the FeiyuTech app to be less robust than they would like. Additionally, the included mini tripod is not particularly sturdy.
In conclusion, if you prioritize compact size and portability above all else, the Feiyu VLOG Pocket 2 is an excellent choice. Despite its small size, it is packed with features and provides smooth, steady footage. It is also durable and easy to use, making it an excellent choice for vloggers who need to be able to take their gear on the go.
Feiyu VLOG Pocket 2 Handheld Gimbal: $89 at Amazon, B&H.
---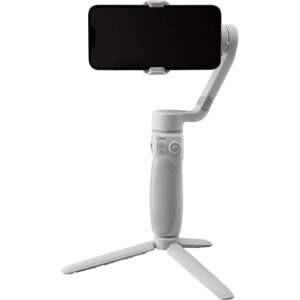 Zhiyun Smooth-Q4 Key Features:
Weight: 13.1 oz / 370 g
Load Capacity: 9.9 oz / 280 g
Battery Runtime: 15 Hours
Battery Charging Time: 2.5 Hours
Battery Capacity: 1200 mAh
Extendable pole: 215mm
Dimensions: 181.7 x 107.7 x 56.3 mm (Folded)
Pros
As feature-rich as the DJI OM 5
More affordable than its closest competitors
The revamped fill light is much easier to use
Extendable arm helps create unique shots
Tracks your every move
Long battery life
Very smooth
Cons
A slight price hike over the Zhiyun Smooth Q3
Noticeable compression in hyper-lapse clips
Poor image stitching in pano mode
The ZHIYUN Smooth Q4 is a pocket-sized powerhouse for mobile filmmakers, offering premium features at an incredibly affordable price tag. For a lower cost than the DJI OM 5, you get all the necessary specs as well as an extendable arm, a newly designed body, and a top-notch app – making the Q4 a comfortable yet powerful tool. Even though the ZY Cami app isn't quite as polished as DJI's, it still provides outstanding functionalities for smartphone videography. In conclusion, if you're looking for an alternative to the DJI OM 5, the Smooth Q4 is the perfect choice!
Zhiyun Smooth-Q4 Smartphone Gimbal: $99 at Amazon, B&H, Adorama.
Zhiyun Smooth-Q4 Smartphone Gimbal Combo: $119 at Amazon, B&H, Adorama.
---
We appreciate your choice in exploring our comprehensive guide on top-notch gimbals for Google Pixel 8 & Pixel 8 Pro smartphones. Our team is confident that the recommendations provided have been instrumental in assisting you in discovering the ideal gimbal that aligns seamlessly with your specific needs. Your feedback is of utmost importance to us, as we are dedicated to consistently delivering guides that are both relevant and informative. We strongly urge you to share your valuable insights, as they play a pivotal role in refining our content and elevating the overall user experience. If you have had the opportunity to personally try out any of the recommended gimbals, your perspectives and firsthand experiences would be highly valued. These insights not only aid fellow readers but also empower them to make well-considered decisions.
Read more: