Best Smartphone Gimbals in 2023
Looking for the best mobile gimbals for smartphones? Here are our top recommended smartphone gimbals for your iPhone and Android phones.
Nowadays smartphones have become an essential commodity in people's pockets – small, portable, powerful and excellent for photography, vlogging and recording videos. The downside is that when recording movies, the picture is prone to shaking especially when moving. And then the handheld gimbal can make the picture smoother and more comfortable to look at, creating a cinematic effect.
Smartphone gimbal, also known as mobile phone stabilizer or three-axis stabilizer, is a device used to prevent camera shake. It uses a gyroscope to detect the shake of the phone, and then uses three motors to offset the shake, thereby preventing the shake when shooting video while moving.
If you love hand-held shooting while moving, you will absolutely need a gimbal that can ensure your footage as steady as can be and help shoot professional-looking videos without any camera movement.
There are dozens of smartphone gimbals on the market today, and finding the right gimbal for your mobile phone can be a daunting task, so we have curated a buying guide that would enlighten you the top recomended smartphone gimbals for your iPhone and Android phones. You can simply pick the one you like best!
6 Key Points You Must Know before Purchasing a Gimbal
Let's take a look at the six key points that you must know before purchasing a smartphone gimbal/stabilizer:
1. Small and lightweight
The gimbal is an object to be carried along with the mobile phone. The smaller and lighter the stabilizer is, of course, the better, so that your hands will not get tired when shooting for a long time. It's best to put it in your pocket and take it with you. Shooting while walking, don't miss any amazing moment.
2. Simple Operation
The main purpose of mobile shooting & vlogging is to record your own life. If a gimbal/stabilizer has complicated operation logic, it will be difficult for beginners to get started, and it will take a long time to learn the key functions. For novice users, they have already given up before starting.
3. Load Capacity
The load capacity of the smartphone gimbal is limited, so you should choose the corresponding gibmal based on the weight of your mobile phone. If the weight of your smatphone is too large to maintain the balance of the gimbal, it will naturally affect the performance of the gimbal.
4. Battery Runtime & Charging Time
The gimbal with long battery runtime is definitely a good partner for you to go out and shoot. And, if the gimbal itself can be charged through USB cable, the convenience is greatly improved. We all hope it can be charged as soon as possible.
5. Front and rear camera switching, horizontal and vertical shooting switching
The switching between the two shooting modes is manual or automatic is particularly important for video shooting users, and it will directly affect the user experience.
6. Cost-effective
Most of the people who use mobile phones to shoot videos are amateur players, and the expensive price will discourage novice users.
Best Smartphone Gimbals in 2023
Here is the full list of our top recommended gimbals for your iPhone and Android phones.
| | | | |
| --- | --- | --- | --- |
| | | | |
| | | | |
| | Excellent GIMBAl, a value alternative! | | |
| | Excellent gimbal for beginners and pros alike | | |
| | | | |
| | | | |
| | | | |
| | | | |
| | | | |
| | | | |
You can also see the detailed smartphone gimbal review below.
---
The best overall smartphone gimbal
Key Features:
Weight: 10.9 oz / 309 g
Load Capacity: 6 to 10.2 oz / 170 to 290 g
Battery Runtime: 6.4 Hours
Charging Time: 1.5 Hours
Dimensions Unfolded: 276 × 111.5 × 99 mm
Dimensions Folded: 189 × 84.5 × 44 mm
8.5″ built-in extension rod, magnetic mounting system
New Display Panel
New Side Wheel
Horizontal and vertical shooting support
DJI Mimo app with ActiveTrack 5.0
Tutorials, Timelapse, Hyperlapse, Panorama
Pros
Compact and Portable
Useful 8.5-inch extension rod
Robust build quality
Great ergonomics
Fast and seamless setup
Capable DJI Mimo app
Convenient controls
Great stabilisation
Improved ActiveTrack Subject tracking
Mode selection from the handle
Quick startup on Apple devices
Cons
Quick Launch feature exclusive to iPhone
Foldable design limits panning range
The DJI Osmo Mobile 6 is a compact and portable gimbal that is a breeze to set up and use. This stabilizer has been seriously upgraded, combining some core technology from earlier models and adding new performance-boosting features. As a result, it is undeniably one of the top-of-the-line phone gimbals on the market.
For vloggers and mobile filmmakers, there are plenty of benefits to owning this gimbal. The ActiveTrack 5.0 and built-in stabilization give you unbeatable quality footage, whether you're shooting yourself or your subjects.
The Osmo Mobile 6 is something you don't want to miss, boasting a variety of shooting modes to achieve cinematic camera moves, coupled with the convenient Mimo app for a truly enjoyable user experience – all this at an unbeatable price and with an impressive list of features.
DJI Osmo Mobile 6 Smartphone Gimbal: $159 at Amazon, B&H, Adorama.
---
Excellent GIMBAl, a value alternative!
Key Features:
Load Capacity: 6 to 8.1 oz / 170 to 230 g
Smartphone Dimensions: Width: 2.64 to 3.31″ | Height: 0.3 to 0.4″
Battery Runtime: 6.4 Hours
Charging Time: 1.5 Hours
Portable and Foldable
Extension rod for additional 8.5″ length
Weight: 10.3 oz / 292 g
If you're looking for a cheaper alternative to the DJI Osmo Mobile 6, the DJI OM 5 is your perfect match – now permanently priced at only $129! With this sweet deal, you'll save $30 and enjoy a more portable device, as the OM 5 is smaller and lighter than its big brother. Of course, this means you'll miss out on all the new features of the Osmo Mobile 6, but if portability is your top priority, then the OM 5 is the way to go!
Available in new sunset white and classic grey colors, this DJI OM 5 gimbal is relatively smaller and lighter in weight compared to the previous OM 4 edition. In addition, the DJI OM 5 smartphone gimbal stabilizer now features an extension rod that provides an additional 8.5″ length (215mm extension) to give you more flexibility to record from low angles and even takes group photographs with ease.
What's more, the DJI OM 5 features Bluetooth 5 control and syncs up with the DJI Mimo app to provide multiple shooting modes and functions, including Sport, Portrait, Underslung, Landscape, Time-Lapse, DynamicZoom (Dolly Zoom), Hyperlapse, Panorama, enhanced "CloneMe" Panorama, Slow-Motion, Inception-style spin (SpinShot), and a Sport mode for fast-action shooting. In addition to using the joystick controls on the handle, you can also use hand gestures to control the gimbal to track your movement, take a selfie, or start/stop your smartphone camera, so you don't have to press the record button or touch any controls. It can also automatically track body shapes to track human subjects without the need to make a manual selection with the latest ActiveTrack 4.0.
The built-in battery runtime is approximately 6.4 hours, and it takes approximately 1.5 hours to charge using the included USB Type-C cable. Overall, this gimbal is uber suitable for almost all the iPhone and android phones on the market.
DJI OM 5 Smartphone Gimbal
Pros
Versatile, compact phone gimbal
Easy to use
Built-in extension rod
Up to 6.5 hours of battery life
Tracking feature improved
Two color options instead of one
Cons
Expensive
Framerates locked to 30fps
Cumbersome folding arm
Cannot be used to charge phone
---
Great gimbal for beginners and pros alike.
An excellent gimbal for beginners and pros alike
Load Capacity: 6 to 10.23 oz / 170 to 290 g
Smartphone Dimensions: Width: 2.64 to 3.31″ / 67 to 84 mm
Battery Runtime: 15 Hours
Ultracompact, foldable design with redesigned comfort handgrip
1/4″-20 tripod mounting thread
Weight: 13.76 oz / 390 g
If even the OM 5 is out of your budget, the DJI OM 4 SE ($99) is a superb deal! Although it doesn't have the same folding capabilities as the Osmo Mobile 6 or OM 5, it is still a great option for travelling.
The DJI OM 4 SE is an excellent gimbal for beginners and pros alike, with easy-to-use controls and a collapsible design that makes it significantly more portable.
The DJI OM 4 SE uses a magnetic quick-release design to snap onto your smartphone with ease. With powerful intelligent features and stabilization technology that effectively eliminates shake during shooting, DJI OM 4 SE lets you to turn any moment into professional-looking footage. ActiveTrack 3.0 makes following subjects a walk in the park. This version recognizes adults, children, and pets with higher accuracy, and you can even fine-tune your image composition with the joystick. You can mount any smartphone up to 3.3″ wide in its phone cradle, and its magnetic phone clamp allows for simple and fast mounting and unmounting. Overall, the DJI OM 4 SE is an ideal 3-axis smartphone gimbal for all the iPhone and android smartphones.
DJI OM 4 SE Smartphone Gimbal
Pros
Affordable
15 hours battery life
Works with more phones
Easy-to-use
Magnetic phone clamp is incredibly thin and ultralight
Convenient folding design
Cons
Battery can't be removed or replaced
---
Great Value Gimbal
Load Capacity: up to 280 g
Smartphone Dimensions: Width: 55 to 90 mm
Battery Runtime: 10 Hours
33′ Remote Control Included
Face and Object Tracking
Weight: 0.6 lb / 259 g
A great value gimbal
The Hohem iSteady X2, is a compact 3-axis gimbal stabilizer for capturing smooth and steady video with your smartphone. As you follow your subject, it compensates for any hand-shake, stabilizing your phone along the pan, tilt, and roll axes to deliver professional-looking, cinematic shots. You can also manually move the gimbal head (along with your attached smartphone) up to 320° on each of these axes by using the onboard joystick to achieve smooth motion shots.
The adjustable phone clamp fits up to 3.5″ wide smartphones, supporting virtually all popular phones. The small size of the gimbal is made even more portable thanks to a folding design.
The gimbal features a 1/4″-20 mounting thread on the bottom for attaching the supplied mini tripod. The tripod can be used as a stand or as an additional handgrip, so you can hold the gimbal with two hands. It can be used as a stand when you're vlogging with face tracking on as well. Overall, the Hohem iSteady X2 is an excellent gimbal for amateur vloggers and intermediate vloggers looking to upskill and advance their talent.
Hohem iSteady X2 Smartphone Gimbal
Pros
Easy to set up
Remote control
Light in weight
Face and Object Tracking
33′ Remote Control Included
Accessories including stand, case and strap
Cons
No built-in LED light
Handle could be larger
---
Most Portable Gimbal
Load Capacity: 8.82 oz / 250 g
Battery Runtime: 9 Hours
1.5-Hour Recharge
Lightweight, Foldable Smartphone Gimbal
Weight: 0.59 lb / 268 g
Most Portable Gimbal
If compact size is of utmost importance to you, I recommend the Feiyu VLOG Pocket 2. It is compact, lightweight at just over half a pound and folds for storage and travel. It features a quick toggle button to power the gimbal and change between lock and panning modes, and it allows you to quickly reset your smartphone in landscape or portrait mode.
This Feiyu Vlog Pocket 2 is a pocketable gimbal with unique features, which includes gesture control, zoom control, AI tracking, portrait mode, and auto hitchcock zoom. Additionally, It can directly control original camera and beauty App. A USB Type-C cable is included to charge the built-in lithium-ion battery in approximately 1.5 hours. The battery lasts approximately nine hours in operation. Also included is a mini tripod that attaches to the bottom 1/4″-20 mounting thread so you can stand the gimbal on a flat surface.
That being said, with its palm size but intelligent functions, the Feiyu VLOG Pocket 2 is an excellent choice for portable on-the-go use!
Feiyu VLOG Pocket 2 Gimbal
Pros
Compact and sturdy
smooth steady footage
Can be used without FeiyuTech app
Long battery life
Multiple features available when using the app
Included mini tripod
Cons
No LCD to display gimbal modes
NOT be able to use the phone with a case on.
The App could be more robust
---
Key Features:
Weight: 13.1 oz / 370 g
Load Capacity: 9.9 oz / 280 g
Battery Runtime: 15 Hours
Battery Charging Time: 2.5 Hours
Battery Capacity: 1200 mAh
Extendable pole: 215mm
Dimensions: 181.7 x 107.7 x 56.3 mm (Folded)
Pros
As feature-rich as the DJI OM 5
More affordable than its closest competitors
The revamped fill light is much easier to use
Extendable arm helps create unique shots
Tracks your every move
Long battery life
Very smooth
Cons
A slight price hike over the Zhiyun Smooth Q3
Noticeable compression in hyper-lapse clips
Poor image stitching in pano mode
For those into mobile filmmaking, the ZHIYUN Smooth Q4 offers a fantastic alternative to the DJI OM 5, with its remarkable features and affordable price tag. This smartphone gimbal is packed with premium features, such as its extendable arm, wholly refurbished design and superior app. While the ZY Cami app still has some way to go to outperform DJI's, it still provides great functions for video creators. So if you're after a powerful and comfortable tool for content creation, then look no further and get the Smooth Q4.
Zhiyun Smooth-Q4 Smartphone Gimbal: $99 at Amazon, B&H, Adorama.
Best Budget Gimbal
Load Capacity: 0.6 lb / 280 g
Smartphone Dimensions: Width: 2.2 to 3.5″ / 55 to 90 mm
Battery Runtime: 15 Hours
Weight: 0.7 lb / 340 g
Dimensions: 180 x 154 x 45 mm (Folded)
Compact Folding 3-Axis Stabilizer
Best Budget Gimbal
The Zhiyun Smooth-Q3 is a compact folding 3-axis stabilizer for smartphones, designed with a built-in LED video light with three selectable brightness levels. It is is a pleasure to use, whether shooting for Tik Tok, vlogging, social channels or just for fun, day or night. Uniquely, the gimbal features a 4,300k warm-toned integrated fill light with three levels of brightness adjustment and touch button control for 180 Degree front and rear lighting, perfect for capturing clear portrait images in low light set ups.
The Zhiyun Smooth Q3 weighs only 0.75lb(340g), supports up to 0.62lb(280g) devices. The sleek, foldable design allows it to be taken anywhere. The gimbal has an ergonomic design with a nonslip handle, and it runs for up to 15 hours on the included battery and fully recharges in approximately three hours. A mini tripod is also included and can be used as a tripod or a handgrip extension to allow you to hold the gimbal with two hands for better control of it.
The gimbal's capabilities are enhanced via a companion ZY Cami iOS/Android app, which allows you to set up creative movements such as Simplified Dolly Zoom. The app also offers functions such as Advanced Smart Tracking and one-tap live streaming.
Zhiyun Smooth-Q3 Smartphone Gimbal
The Good
Super-light and compact construction
Built-in LED fill light is good
Quick and easy to balance
Plenty of advanced shooting modes
Great controls and ergonomic handle
Included tripod attachment
Affordable
The Bad
Feels cheap and a bit flimsy
ZY Cami app glitches
Lots of options may be confusing at first
No more reverse-charging
Motors seem very sensitive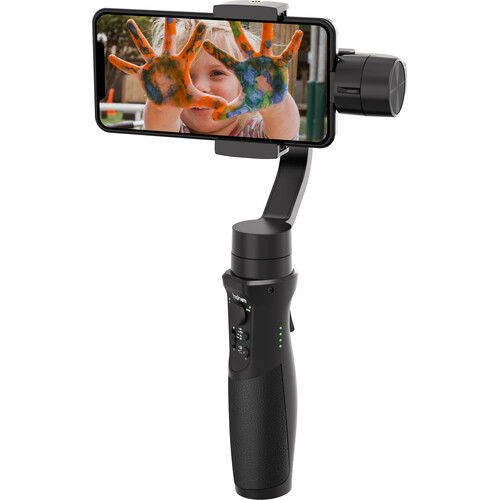 Most Affordable Gimbal
Load Capacity: 9.88 oz / 280 g
Smartphone Dimensions: Width: 2.17 to 3.5″ / 55 to 89 mm
Battery Runtime: 12 Hours
Weight: 495 g (with Battery)
An Excellent Affordable Gimbal
The Hohem iSteady Mobile Plus is an excellent smartphone gimbal for capturing smooth video with your phone while moving, walking, and running. All the controls are right there at the tip of your thumb and the 12 hour battery life lets you use this accessory for a long time before it needs to be recharged. In addition, the gimbal features a 4-way joystick for manual control, as well as a focus/zoom toggle switch that lets you control your smartphone's lens.
There are clearly some aspects that could have been improved, such as replacing the microUSB port (with a type-C) or adding some locks for the arms, but condering the affordable price, quiet operation, and the ability to shoot smooth video, the Hohem iSteady Mobile Plus will absolutely be a worthy addition to your smartphone camera accessory kit.
Hohem iSteady Mobile+ Smartphone Gimbal
Pros
Long battery life
Clean footage
Handle controls are exceptional
Amazing panning
Affordable price
Object and face tracking works great
Cons
App could be better
Still stuck with a microUSB port
---
Load Capacity: 2.65 to 7.41 oz / 75 to 210 g
Smartphone Dimensions: Height: 2.44 to 3.35″ / 62 to 85 mm
Battery Runtime: 12 Hours
Charges Phone While Shooting
Large Left-Side Focus/Zoom Wheel
Weight: 19.29 oz / 547 g
The Zhiyun Smooth 4 is a seriously solid prosumer-style handheld stabilizer for smartphones with a lots of excellent features including a tactile focus/zoom wheel, a long battery life and two-way charging, though it has some weakness. Compared to the Smooth-3, the Smooth-4's controls are more ergonomically laid out and better labeled with icons. The Smooth-4 also has a significantly larger focus/zoom wheel, a PhoneGo mode for quickly grabbing the action, multiple time-lapse functions, and object tracking.
In addition, powered by rechargeable lithium-ion batteries, the Smooth-4 features a maximum runtime of up to 12 hours. With the ability to support smartphones weighing up to 7.4 oz (210 g) and measuring up to 3.35″ high, the Smooth-4 is compatible with many mobile phones, including Google Pixel 6 and Pixel 6 Pro.
Zhiyun Smooth-4 Smartphone Gimbal
Pros
Solid build quality
Smooth footage
Focus/zoom wheel
Long battery life
Two-way charging
Great value for price
Cons
Weighty
No joystick control
Lacks face tracking
Doesn't support very large/heavy phones
---
Load Capacity: up to 320 g (Fits phones up to 320 grams)
Redesigned Controls & Focus/Zoom Wheel
Battery Runtime: 12 Hours
2-Hour Fast PD Charging
Charges Phone While Shooting
Weight: 21.7 oz / 615 g (with Handlebar and Battery)
The Zhiyun Smooth-5 is compatible with almost any mobile phone, it features durable magnetic steel motors, an improved battery life, and an extended 3-axis range. But, the Zhiyun-Tech Smooth-5 is not as portable as other gimbals and has an extensive number of controls, so there is a steep learning curve, but after that, it performs well and yields outstanding results. It is very close to a professional camera gimbal, with features like the rear Axis Arm structure and the large Focus/Zoom Control Wheel that are only found in camera gimbals.
A mini tripod is included to use the gimbal on a flat surface for steady shots or for when it is not in use. A USB Type-C charging cable is included to utilize the PD fast charge function for a quick two-hour charge, and it can also be charged while shooting using a separately available power bank.
The Smooth 5 is a perfect choice if you're searching for that DSLR-esque vibe to your footage.
Zhiyun Smooth-5 Smartphone Gimbal
Pros
Solid build quality and construction
Capable of holding larger phones (up to 300 g)
Unique focus/zoom control wheel
Full-featured smartphone software
Cons
Weighty
Overpriced considering competition
Does not fold up to compact size
Lots of buttons and controls
---
That's all the recommended gimbals for your iPhone and Android phones. Just get the one you like best!
Read more: Best Gimbals for Mirrorless Cameras.