Best Cameras Under $400 in 2023
Starting with photography doesn't have to be an expensive affair. In fact, a budget of $400 is more than enough to get you started on your photography journey. With so many options in the market, it can be quite intimidating to choose the right camera. The truth is, the price tag of a camera does not determine how good your photos will be. Therefore, it's essential to consider your needs and choose a camera that meets those needs within your budget. In this article, we'll be reviewing the best cameras under $400 for beginners.
While the camera market is crowded with many options, we've conducted extensive reviews to give you honest feedback on our experiences with each camera. We believe that photography is about getting involved and not necessarily about having the most expensive digital camera. Therefore, we've focused on finding great value beginner cameras that don't break the bank.
With so many brands and hundreds of different camera models, it can be challenging to cut through the noise and choose the most appropriate camera for you. That's why we've compiled a list of the top cameras under $400, ranging from DSLR-like cameras to small and portable bridge cameras.
It's worth noting that we haven't included the best APS-C sensor-powered DSLRs or the best mirrorless cameras in this list. We'll be discussing those separately in a different article. However, if you're short on time and want to know our top picks, we highly recommend the Canon EOS Rebel T7 as the best starter camera for those starting their photography adventures.
Whether you're interested in portrait photography, landscape photography, or simply want to capture everyday moments, there's a camera on this list that's perfect for you. So, let's dive in and take a look at the best cameras under $400 for beginners.
Best DSLR Camera Under $400
Best DSLR Camera under $400 for beginners
Canon EOS Rebel T7 Key Features:
DSLR Camera
Canon EF-S Lens mount
24.1MP APS-C CMOS Sensor
DIGIC 4+ Image Processor
3.0″ 920k-Dot LCD Monitor
Full HD 1080/30p Video Recording
Continuous Shooting at up to 3.0 fps
9-Point AF with Center Cross-Type Point
ISO 100-6400
Built-In Wi-Fi with NFC
Scene Intelligent Auto Mode
Creative Filters and Creative Auto Modes
Included EF-S 18-55mm f/3.5-5.6 IS II Lens
1.05 lb / 475 g
Pros:
Affordable
Easy to use
Great For beginners
Solid feature set
Good image quality
In-camera feature guide
Long Battery Life
Cons:
Slow continuous shooting
No 4K video
No touch screen
Stationary LCD (no tilt)
The Canon EOS Rebel T7, also known as the EOS 2000D, is an entry-level DSLR camera that is perfect for beginners looking to try out DSLR photography. It is lightweight and compact, making it easy to travel with, and has a solid build quality that can withstand everyday use. Despite being a slightly older model, the Canon EOS Rebel T7 is a well-specced camera with a 24.1MP APS-C sensor, a 9-point autofocus system, 3fps burst shooting, Full HD 1080/30p video, and a Canon EF-S mount that provides access to a vast range of lenses.
One of the notable features of the Canon EOS Rebel T7 is its intuitive and user-friendly interface, with a simplified control layout and an easy-to-follow menu system. The camera also comes with a solid pentamirror viewfinder that provides an immediate view of the shooting area, although the 3.0-inch LCD screen is fixed and not touch-sensitive. The camera's burst rate of 3fps is decent, and it can do so for a decent amount of time, with 40 consecutive full-size JPEGs possible before the camera starts to stutter.
The Canon EOS Rebel T7 is capable of producing images of impressive quality and depth, thanks to its 24.1MP APS-C sensor, and a selection of Picture Styles can be applied to give your images a specific 'look' in-camera. The camera is compatible with thousands of lenses that are compatible with the Canon EF-S mount, including Canon's full-frame lenses. Wise lens investments will help you build a collection of glass that can last a lifetime.
Overall, the Canon EOS Rebel T7 is the best starter DSLR under $400. It is an impressively specced beginner's DSLR that is perfect for anyone starting out in DSLR photography. While it may not have all the specs of more expensive models, it offers impressive features for its price range and is easy to use. Its image quality, versatility, and access to a wide range of compatible lenses make it a fantastic starter DSLR.
Canon EOS Rebel T7 with 18-55mm Lens: $399 at Amazon, B&H, Adorama.
---
Best Superzoom Camera Under $400
An all-in-one bridge camera
Panasonic Lumix FZ80 Key Features:
Point & Shoot Camera
18.1MP 1/2.3″ MOS Sensor
Lumix DC Vario 60x Zoom Lens
20-1200mm (35mm Equivalent)
1.166m-Dot Electronic Viewfinder
3.0″ 1.04m-Dot Touchscreen LCD Monitor
4K UHD Video Recording at 30 fps
ISO 6400, 10 fps Shooting, 4K Photo Mode
Built-In Wi-Fi Connectivity
Post Focus and Focus Stacking
POWER O.I.S., DFD AF System
Pros:
Easy to use
Lightweight and compact
Huge 60x wide-angle zoom lens offers a lot of versatility
Superb 4K video and image quality
10fps Raw capture
30fps 4K Photo capture
3 inch Touchscreen LCD
Sharp EVF
Good value for money
Cons:
No eye sensor for EVF
Fixed rear LCD
Weak high-ISO performance
Poor image quality in low light
The Panasonic Lumix FZ80 is an all-in-one bridge camera designed for those who want a DSLR-like shooting experience without the complexity and added cost of additional lenses. With 4K video capabilities, a 60x optical zoom, a pleasing retro design, and a handy touchscreen, it is an excellent everyday camera that produces good quality results. Priced under $400, it is one of the best bang-for-your-buck superzoom cameras available.
The camera's built-in lens has a super long zoom range that lets you shoot everything from close-ups to landscapes to far-off subjects like birds and wildlife. With a 35mm format equivalent focal length of 20-1200mm, the 60x optical zoom gives it a superzoom in layman's terms. You can use the FZ80 to capture close-up shots of the moon and its craters on a clear night with incredible detail that will make a professional photographer wielding a DSLR go green with envy. The lens features Power Optical Image Stabilization (OIS), which is incredibly handy when shooting fully zoomed in. The lens construction includes six aspherical elements and three extra-low dispersion elements, ensuring that the lens can suppress the effects of spherical aberrations (color fringing) rather well.
The camera is powered by an 18.1-MP 1/2.3-inch MOS BSI sensor, which is small compared to a DSLR. The low light performance is decent, thanks to the BSI technology that powers the sensor.
The FZ80's highlight is its 4K/UHD video recording at 30fps. 4K still shooting is available when you're in the still mode, allowing you to shoot 8-MP images at 30 fps. It also shoots full HD videos at 60 fps. Slow motion options at 720p HD 120 fps and 480p at 240 fps are also available.
Another cool feature of the camera is Post Focus, which allows you to choose your focus point after taking the image. This feature means you never miss focus on a shot because you can always correct the focusing point after the image has been taken.
The camera has a 3-inch touchscreen LCD, WiFi connectivity, and USB charging for easy transfer of data. It also comes with three unique modes to capture 4k videos, with pause and save modes to help extract high-resolution parts of the video filmed.
The FZ80's body design incorporates both a 1.166m-dot electronic viewfinder for eye-level monitoring and a 3.0″ 1.04m-dot touchscreen LCD for intuitive control of shooting settings. Built-in WiFi is also featured for wireless image sharing and remote camera control from a linked smartphone or tablet.
Overall, the Panasonic Lumix FZ80 is an amazing choice for those looking for a superzoom focal length in a reasonable budget. It's one of the best point-and-shoot cameras for capturing quality videos and photos under $400, with its 60x optical zoom, 4K video capabilities, Post Focus feature, and WiFi connectivity.
Panasonic Lumix FZ80 Camera: $397.99 at Amazon, B&H, Adorama.
---
Best Point-And-Shoot Camera Under $400
Best for everyday use: An easy-to-use camera with impressive zoom performance
Panasonic Lumix ZS80 Key Features:
20.3MP 1/2.3″ MOS Sensor
Leica DC Vario-Elmar 30x Zoom Lens
24-720mm (35mm Equivalent)
2.33m-Dot Live View Finder
3.0″ Tilting OLED Touchscreen
UHD 4K30 and Full HD 1080p Video
POWER Optical Image Stabilizer
ISO 80-6400, up to 10-fps Shooting
4K Photo Modes and Sequence Composition
Bluetooth and Wi-Fi Connectivity
Pros:
Handsome, accurate color and detail
Compact, sturdy design
Intuitive, customizable controls
30x (24-720mm equivalent) zoom lens
Very pleasing 4K video footage
Subject tracking autofocus for videos
Touch screen for quick setting adjustments
Speedy AF and and face detection
Cons:
EVF far from perfect
No tilting screen
Multiple buttons and menus a bit confusing at first
The Panasonic Lumix ZS80, also known as TZ95 in some regions, is a compact point-and-shoot camera that is ideal for casual photographers on the go who want a simple, yet versatile camera with a lot of zoom. It is one of the best point-and-shoot cameras available for under $400. The camera is lightweight and compact, making it easy to bring with you wherever you go. It has a small handgrip, a flip-out screen, and a versatile zoom range that is great for a range of different photo styles. The camera also includes a small viewfinder, which is handy for sunny days when it might be harder to see the screen.
The Lumix ZS80 has a 20.3MP 1/2.3″ High-Sensitivity MOS sensor, which enables it to produce rich image quality with low noise and sensitivity to an extended ISO 6400 for working in difficult lighting conditions. It can shoot continuously at up to 10 fps with single-shot AF, 30 fps at 8MP in 4K PHOTO modes, and UHD 4K video recording at 30p. The 4K PHOTO modes allow you to produce stromotion images, which combine sequential exposures into a single frame for a dynamic finished look.
The camera's 30x Leica DC Vario-Elmar zoom lens covers a 24-720mm equivalent focal length range, which makes it very versatile for a range of different photo styles. It also has a 5-axis POWER Optical Image Stabilizer to minimize the appearance of camera shake for sharper handheld shooting. The camera's compact size and incorporation of both a 2.33m-dot electronic viewfinder and 3.0″ tilting OLED touchscreen are also noteworthy.
In terms of connectivity, the Lumix ZS80 has built-in Wi-Fi and Bluetooth that allow you to wirelessly share imagery or remotely control the camera from a linked smartphone or tablet. The camera also has a pleasing retro design that looks great and feels comfortable to hold.
While the image quality may not be as good as cameras with larger sensors, the ZS80 has a 10 fps burst shooting and a surprisingly decent autofocus system, along with solid battery life. It also offers a wide range of shooting modes including PASM, which can be used for movies as well as stills, and Panasonic's 4K shooting modes with 30fps continuous shooting at 8 Megapixel resolution as well as post focus and focus stacking modes.
Overall, the Panasonic Lumix ZS80 is an easy-to-use, lightweight camera with great features that make it perfect for travelers, casual photographers, and vloggers. It produces good quality results and fits into your pocket, making it easy to take on the go. For less than $450, it offers excellent value for money and is a great budget buy for those looking for a compact camera with a long zoom range.
Panasonic Lumix ZS80 Camera: $397.99 at Amazon, B&H, Adorama.
---
Best Vlogging Camera Under $400
Best camera under $400 for vloggers, Youtubers, streamers, or travel photographers
DJI Pocket 2 Gimbal Camera Key Features:
Camera with 1/1.7″ 64MP CMOS Sensor
Compact 4.1 oz, 3-Axis Gimbal Design
4K/60p, 2.7K/60p, 1080/60p Video
8x zoom (64MP mode), 4x lossless zoom in 1080p or 16MP mode
Panorama modes in 3×3 and 180°
4 microphones with directional audio and sound tracking
93° Angle of View
Connects to Smartphone via DJI Mimo App
64MP JPEG or DNG Raw Still Photos
Built-In Glamour Effects & AI Editor
Optional Wi-Fi & Bluetooth Monitoring
Time-Lapse, Motion-Lapse, Panorama Modes
Pros:
The most pocketable, stable camera around
Super easy to use
4k video at 60 fps
Ideal for vloggers and content creators
Built-in filters and effects that feel like classic social media glamor filters
Plenty of content creator accessories available
Cons:
Poor low light performance
Struggles with high-contrast scenes
Can get hot while filming 4K
The DJI Pocket 2 is an impressive camera for vlogging and content creation, particularly for those who need stabilized footage without the bulk of traditional stabilizers. This pocket camera is equipped with a built-in three-axis gimbal that makes it easy to capture smooth footage, while its larger sensor ensures solid video quality and improved low-light performance. With its 4k video recording capability up to 60 fps and automatic tracking feature, the DJI Pocket 2 is a great option for vloggers on a budget.
While it may not be the best option for professional videographers, the DJI Pocket 2 is a fantastic imaging tool that can easily slot into a videographer or vlogger's workflow. The Creator Combo package is particularly useful, offering a wireless mic and other core tools for video production. The camera is easy to use and its ultrawide lens attachment adds field of view, though it may drop quality slightly.
The DJI Pocket 2 Gimbal weighs just over four ounces and incorporates a 1/1.7″ sensor and a wide 20mm, 93° angle-of-view lens to record up to cinematic 4K60 video at 100 Mb/s and 64MP still photos onto a microSD card up to 256GB in capacity. It also features four directional stereo microphones with DJI Matrix Stereo audio zoom, noise reduction, and zoom function to capture enhanced audio. You can even live stream your video to your favorite platform through your smartphone.
With its lightweight, compact design, and numerous upgrades over its predecessor, the DJI Pocket 2 is a great choice for those in need of a high-resolution mobile production to create family videos, add footage to photo shoots, or vlog their latest creations. While there are some negatives, such as noise handling and lack of dynamic range in backlit scenes, the convenience, versatility, and stabilization offered by the DJI Pocket 2 make it an excellent option for content creators.
DJI Pocket 2 Gimbal Camera: $349 at Amazon, B&H, Adorama.
DJI Pocket 2 Creator Combo: $499 at Amazon, B&H, Adorama.
---
Best Waterproof Camera Under $400
Great for Macro and Underwater Photography
Ricoh WG-6 Key Features:
20MP BSI CMOS Sensor
UHD 4K30 Video Recording
Ricoh 5x Optical Zoom Lens
28-140mm (35mm Equivalent)
3.0″ 1.04m-Dot LCD Monitor
Water, Crush, Shock, Freeze & Dustproof
Movie SR+ and Movie SR Stabilization
Built-In GPS Module
Integrated LED Ring Light
Chemical Resistance for Industrial Use
20M Waterproof, 2.1M Shockproof, 100KG Crushproof, -10º Freezeproof & Dustproof
Pros:
Good macro shooting
Shoots decent 4K video
Built-in GPS
Cons:
Poor low-light shooting
No optical image stabilisation
No built-in Wi-Fi
No zoom during video
The Ricoh WG-6 is an all-weather extreme compact camera designed to cater to adventure enthusiasts who need something more robust. It's perfect for underwater and macro photography, and its durable exterior construction makes it waterproof to depths of 65.6′, shockproof from heights of 6.6′, freezeproof, crushproof, dustproof, and resistant to chemical disinfection. The camera features a 20MP BSI-CMOS sensor and 28-140mm equivalent lens, and it's capable of recording 4K/30p video. The built-in GPS, six macro ring lights, and USB-C port are some of the other features of the camera.
While the Ricoh WG-6 is a rugged camera, its control layout can be somewhat cluttered, and the shutter release button requires a lot of pressure, which can cause camera shake. The camera's autofocus speeds are average, and the low light AF is sluggish. The 3″ LCD is sharp, but it's difficult to see outdoors at default settings. Image quality is typical of small-sensored cameras, with noise reduction smudging fine details. The camera doesn't support Raw, which limits the ability to fine-tune noise reduction and/or sharpening to your liking. The WG-6 can capture 340 shots per charge, which is above average.
The Ricoh WG-6's price means it's stuck in a no-man's land between its premium and affordable rivals. It can't match the Olympus TG-6 for all-round features and manual control, but it's also a lot more expensive than the Fujifilm XP140. The WG-6 lacks both image stabilization and Wi-Fi, two things that most of its immediate peers offer. The camera is nice enough, but it doesn't offer as much value as the best waterproof cameras out there.
Overall, the Ricoh WG-6 is a versatile camera that caters to the needs of adventure enthusiasts who require a rugged camera that can withstand harsh conditions. However, it lacks certain features such as Wi-Fi and image stabilization, which are essential for modern-day cameras. If you're a fan of the Ricoh brand, you might be drawn towards the WG-6, but otherwise, the Olympus TG-6 and Fujifilm XP140 are better options at either end of the price tag scale.
Ricoh WG-6 Camera: $346.95 at Amazon, B&H, Adorama.
---
Best Drone Under $400
An excellent drone for beginner pilots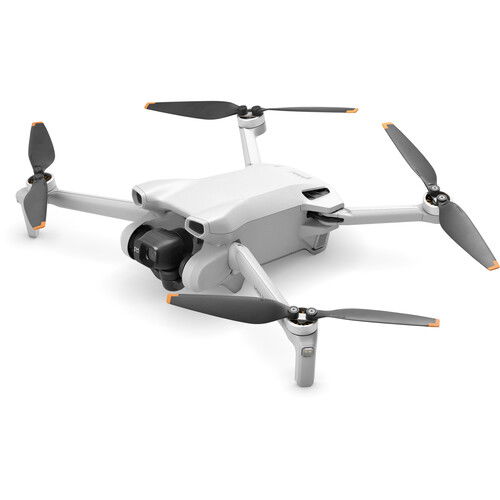 DJI Mini 3 Drone Key Features:
12MP, Type 1/1.3 (10 x 7.5mm) sensor
24mm (equiv.) lens with a fixed F1.7 aperture
4K up to 30fps, 2.7K at up to 60fps, FHD at up to 60fps
3-axis mechanical gimbal
Rotating Gimbal for Vertical Shooting
Up to 38 Minutes of Flight Time
Up to 6.2-Mile Range with OcuSync
8.8 oz Lightweight & Foldable Design
Withstands up to 24 mph Winds
Up to 36 mph Flight Speed
Intelligent Flight & Panorama Modes
Automatic Takeoff/Hover & Return to Home
248g (with battery & microSD card)
Pros:
More affordable than the Mini 3 Pro
Excellent image quality
Small and lightweight
4K 30fps HDR video
Support for vertical video and upward gimbal tilt
38-minute flights with standard battery
51-minute extended battery available
Built-in GPS and FlySafe safety features
Easy to fly
Works with DJI RC or RC-N1 controllers
Cons:
No 4K/60fps
Zero internal storage
No collision sensors
No subject tracking
Doesn't support Hyperlapse or ActiveTrack
The DJI Mini 3 is a great option for beginner drone pilots who want a high-quality drone with excellent image and video capabilities at an affordable price. It delivers a similar image quality to the Mini 3 Pro, but with a more beginner-friendly price point and a few missing features. The Mini 3 is a lightweight drone that has nearly 40 minutes of battery life and a clever 4K30 video camera that shoots landscape and vertical video, making it an appealing option for dedicated creators and newbies alike.
The DJI Mini 3 is a highly appealing starter drone, and it is the best drone to buy for new pilots. It is small, easy to fly, and can stay in the air for up to 51 minutes. The Mini 3's 1/1.3-inch sensor offers dual-native ISO for exceptional low-light performance, and it can shoot up to 4K at 30 frames per second. It lacks the Pro's more advanced features, which can actually be seen as an advantage since it means that it is ready to fly without a huge learning curve. Additionally, the price is great considering the features this drone offers, and it is easy and fun to fly.
While it lacks many of the autonomous flight modes offered in the Mini 3 Pro, the Mini 3 includes only the things you need when starting out, with nothing to complicate the experience. For new drone pilots, the DJI Mini 3 is an ideal choice. The Mini 3 offers all of the standard photo and video features, with photos limited to 12MP, unlike the Mini 3 Pro, which can shoot 48MP photos using the same sensor. However, the image quality is equally impressive. The Mini 3 Pro also offers ActiveTrack, higher 60FPS video, 10-bit video, and better photos. However, both drones are very capable and shoot great videos as long as you think creatively about the shots you want to capture.
Overall, if you're a beginner drone pilot looking for a high-quality drone with excellent image and video capabilities at an affordable price, the DJI Mini 3 is an excellent choice. It is easy to fly, offers great battery life and image quality, and is an excellent starter drone that will help you learn the basics of drone flying. If you want a more advanced drone, the Mini 3 Pro is also a great choice, offering more advanced features and obstacle avoidance sensors for added safety.
DJI Mini 3 (Drone Only): $379 at B&H, Amazon.
DJI Mini 3 with RC-N1 Remote: $469 at Amazon, B&H, Adorama.
---
Best Action Cameras Under $400
GoPro HERO10 Black Key Features:
23MP GP2 Chip with Improved Performance
5.3K60/4K120/2.7K240 Video, 23MP Photos
New Front Display/Rear Touchscreen
Cloud Connected, 1080p Live Streaming
Enhanced Low-Light Performance
HyperSmooth 4.0 Image Stabilization
33′ Waterproof without a Housing
Time-Lapse & Night-Lapse, 8x Slo-Mo
Built-In Flip-Out 2-Prong Mount
1720mAh Capacity Battery
Pros:
NEW GP2 Processor
5.3K capture at up to 60fps
120fps 4K for slow motion
Class-leading video stabilization
Front-facing color screen
Waterproof without an add-on case
Snappier menus and interface
Media Mod support
Extended-run Enduro battery available as add-on
Wi-Fi and USB transfer for phones and tablets
Cons:
Overheating issues at the highest settings
Mediocre battery life
Still poor performance in low light
The GoPro HERO10 Black is an impressive action camera that offers advanced features and capabilities that make it a top pick in its price range. It's the first action camera to offer stunning 5K 60p video, which is a significant upgrade from its predecessor, the HERO9 Black. The HERO10 Black features the new G2 processor, which makes the interface super responsive, doubles the frame rates, and fuels the best image stabilization tech available in action cameras.
While the new GoPro Hero 11 Black has taken the flagship status, the Hero 10 Black arguably offers better value for most people. If you don't need the vertical video and 10-bit recording offered by the Hero 11 Black, the HERO10 Black offers most of the same features for less money. A more user-friendly and refined version of its predecessor, it offers snappier menus, new slow-mo frame rates, and small image quality improvements over the HERO9 Black, making it a really enjoyable waterproof companion for adventures and b-roll footage.
One of the standout features of the HERO10 Black is its ability to record 5.3K 60p video using GoPro's HyperSmooth 4.0 video stabilization. This feature allows for incredibly smooth and stable footage without the need for a gimbal, making it perfect for capturing action-packed moments. The camera can also shoot 23-megapixel photos and has excellent low-light performance, making it a versatile camera for all lighting conditions.
The HERO10 Black features a larger 1.4″ front display than its predecessor, which now offers a live view, allowing you to frame shots more easily. The camera also includes a range of features that are carried over from previous models, including time-lapse and night-lapse, looping video, data overlays, and horizon leveling. Additionally, the camera includes a suite of Power Tools, including HindSight, which records 30 seconds of video prior to hitting the record button, ensuring that you never miss a critical moment.
The camera is built to withstand tough conditions and is 33′ waterproof without an external housing. An optional dive housing can be used to take the camera into much deeper waters. The HERO10 Black has a built-in, flip-out 2-prong mount on the bottom, which allows you to attach it to a large series of mounting accessories available from GoPro for all your applications, whether extreme sports or live streaming to Facebook. Multiple optional add-on mods are offered, such as the Max Lens Mod, which allows you to add an ultrawide 155° angle of view to assist in HyperSmooth stabilization.
In addition to its robust feature set, the HERO10 Black can also be used as a webcam and for 1080p Full HD live streaming. It automatically connects to the cloud, allowing your footage to be uploaded while you shoot when you have a GoPro subscription. The camera includes three microphones with advanced wind noise reduction and 14 voice commands, such as "GoPro, take a photo," making it easy to use in a variety of situations. The HERO10 Black maintains a sleek design and a long-lasting 1720mAh battery capacity, allowing you to operate the camera for long periods on a single charge.
Overall, the HERO10 Black is a top-of-the-line action camera that delivers on its promise of high-quality video and photo capture, smooth footage, and user-friendly features. While it may not offer the same vertical video and 10-bit recording as the HERO11 Black, it provides most of the same features for less money, making it a great option for those looking for an affordable yet powerful action camera.
GoPro HERO10 Black: $399.99 at Amazon, B&H, Adorama.
---
GoPro HERO11 Black Mini Key Features:
24.7MP with Improved Performance
5.3K60/2.7K240 Video
HyperSmooth 5.0 Image Stabilization
Two Sets of Folding Mounting Fingers
Wi-Fi & Bluetooth Connectivity
33′ Waterproof without Housing
8x Slow-Motion Video
Internal Rechargeable Battery
Extra Rugged and Waterproof
Pros:
Small size
Effective control system
Excellent waterproofing and durability
Two mounting brackets
Great image quality and stabilization
Great video quality, capturing up to 5.3K video
Cons:
Non-replaceable battery
Lacks rear- and front-facing displays
The GoPro HERO11 Black Mini is a compact and powerful action camera that offers the same image quality and performance as its full-sized counterpart, but in a smaller form factor. Priced under $400, this camera packs a punch with improved digital features, enhanced stabilization, and unprecedented mounting versatility.
The camera features a new image sensor that can capture 24.7MP photos and record 5.3K60 and 2.7K240 video with rich textures and sharpness. The HyperSmooth 5.0 digital stabilization ensures your footage remains high-quality with horizon lock technology to keep your videos properly aligned. The camera also features expanded mounting with two sets of folding mounting fingers, providing compatibility with helmets, handgrips, and tripods.
Operating the camera is easy with just one button to power up and start recording. Switching over to Pro Controls allows you to adjust resolutions, frame rates, digital lenses, and image quality. The built-in Wi-Fi and Bluetooth connectivity automatically upload your footage to the cloud and send highlight videos to your phone for efficient content creation.
The camera is waterproof to 33′ without requiring an additional housing, making it ideal for capturing footage in any weather condition. Its rugged outer shell makes it even more impervious to the elements and can easily withstand mud, snow, dirt, and more. The scratch-resistant lens cover adds even more protection and can be replaced if needed.
Overall, the GoPro HERO11 Black Mini is a great option for those who want a high-quality action camera that is compact, versatile, and durable. Its advanced features and ease of use make it a perfect choice for capturing amazing point-of-view footage during any adventure. Whether you're skiing, mountain biking, or skating, the HERO11 Black Mini is a reliable and powerful companion that won't disappoint.
GoPro HERO11 Black Mini: $399 at Amazon, B&H, Adorama.
---
Things to consider when buying a camera under $400
When shopping for a camera under $400, here are some things to consider:
Image Quality: Look for cameras with higher megapixel counts, larger sensors, and better image processors to ensure high-quality photos and videos.
Zoom: If you need to zoom in on subjects from a distance, consider a camera with an optical zoom lens rather than digital zoom, as it will produce better quality images.
Size and Weight: Consider the size and weight of the camera, especially if you plan to take it on the go. A smaller, lightweight camera may be easier to carry around, while a larger one may offer more features and controls.
Lens Options: Check if the camera has interchangeable lenses or if it has a built-in zoom lens. Interchangeable lenses offer more flexibility, but can be more expensive.
Battery Life: Consider how long the battery lasts and if it's replaceable. A camera with a short battery life may not be suitable for long shoots or trips.
Video Features: If you plan to use the camera for video, look for features like 4K video, high frame rates, and image stabilization to ensure smooth and high-quality footage.
Connectivity: Check if the camera has Wi-Fi, Bluetooth, or NFC capabilities to easily transfer photos and videos to your smartphone or computer.
User Friendliness: Consider the ease of use and accessibility of the camera's controls and menu system. A camera that's easy to navigate and adjust settings on can save you time and frustration.
Brand and Model: Research the brand and model of the camera you are considering, read reviews, and compare features to make sure it meets your needs and expectations.
FAQs
Below are some of the most frequent questions we have been asked on the subject.
Is the most expensive camera the best camera?
No, the most expensive camera is not necessarily the best camera for everyone. While it's true that high-end cameras typically offer more advanced features and better image quality, the best camera for you depends on your specific needs, preferences, and budget. It's important to consider factors such as image quality, lens options, portability, ease of use, and cost when choosing a camera. It's also worth noting that some mid-range or even budget cameras can offer excellent performance and features that are more than adequate for most users. So, it's essential to do your research, read reviews, and consider your personal needs before making a camera purchase.
Which one is best, a DSLR, compact camera or mirrorless camera?
The choice between a DSLR, Compact Camera, or Mirrorless camera depends on your personal preferences, photography needs, and budget.
DSLR cameras are popular among professionals and enthusiasts who want more control over their photos and the ability to use interchangeable lenses. They have a larger image sensor, optical viewfinder, and longer battery life than most compact cameras and mirrorless cameras. However, they tend to be bulkier and heavier, making them less portable.
Compact cameras are ideal for casual photographers who want a simple and easy-to-use camera for everyday photography. They are typically smaller and more portable than DSLR and mirrorless cameras, making them convenient to carry around. They usually have a fixed lens, and the image sensor is smaller, resulting in lower image quality than DSLR and mirrorless cameras.
Mirrorless cameras are a relatively new category of camera that offers a balance between DSLRs and compact cameras. They have a similar image quality to DSLRs, but they are smaller and more compact, making them easier to carry around. They also have an electronic viewfinder instead of an optical viewfinder, which some photographers prefer. They tend to be more expensive than compact cameras, but less expensive than high-end DSLRs.
Ultimately, the best camera for you depends on your needs and preferences. Consider factors like image quality, size and weight, lens options, and price when making your decision.
Final Thought
In conclusion, buying a camera under $400 is definitely possible, and it doesn't mean you have to compromise on quality. With the right research and understanding of your photography needs, you can find a camera that suits your budget and delivers excellent results. Whether you opt for a DSLR, mirrorless or compact camera, each type has its strengths and weaknesses, and ultimately it depends on your preferences and intended use. Remember to also consider factors such as image quality, features, and usability when making your decision. At Camera Times we're here to help with our expert reviews and independent quiz, so don't hesitate to reach out for further advice. Happy shopping!