Best Gimbals for Fujifilm GFX 100 II
Boasting a potent new 102MP sensor and the X-Processor 5 image processor, the Fujifilm GFX 100 II camera not only serves as a commanding successor to FUJIFILM's flagship model but also establishes itself as a top-tier, accessible mirrorless option for photographers and filmmakers alike. This camera supports internal 4K recording at up to 60p with full sensor width in 4:2:2, and it can output in 10-Bit Apple ProRes RAW. Cinematographers will find its support for Vista Vision, 35mm FF, and 35mm FF Anamorphic formats, offering flexibility in crop and aspect ratios. However, to fully harness its potential and achieve flawlessly stable videos, a high-quality gimbal is essential.
In this comprehensive guide, we are dedicated to unveiling the best gimbals for the Fujifilm GFX 100 II mirrorless camera. Our selections are carefully evaluated, considering crucial factors such as payload capacity, long-lasting battery life, unwavering stability, and affordability.
Whether you're a seasoned professional stepping into the cinematic realm or a passionate content creator dedicated to capturing life's most precious moments with unparalleled fluidity, our thoughtfully curated array of gimbals caters to every ambition and budget. Without further delay, let's embark on the exploration of the top recommended gimbals for the Fujifilm GFX 100 II mirrorless camera.
And if you're interested in other accessories for your Fujifilm GFX 100 II, be sure to check out our Fujifilm GFX 100 II Lens Guide and Fujifilm GFX 100 II Memory Card Guide for even more helpful recommendations.
Fujifilm GFX 100 II Store Links at Amazon, B&H, Adorama.
Best Gimbals for Fujifilm GFX 100 II
Zhiyun's best gimbal for heavier cameras
Zhiyun CRANE 4 Key Features:
Max. Payload: 13.2 lb / 6 kg
Battery Runtime: 12 Hours (2600 mAh)
Battery Charging Time: 1.5 Hours (Supports PD Fast-charging)
Connections: Bluetooth 5.0, USB-C
Display: 1.22″ Color Touchscreen
Smartphone App: Yes
Compatiblitle Cameras: Click Here to Check
Weight: 3.68 lb / 1.67 kg (without Tripod)
Dimensions: 340 x 280 x 70 mm
Warranty: 1 year
Special Feature: Extended Arm for Full-Frame Lenses, Dual-Layer Quick Release Plates, 360° Pan, 207° Tilt, 70° Roll Rotation, Built-In 3200 Lux Fill Light, Adjustable Color Temperature, Creative Operation Modes, 1.22″ Touchscreen, Balance Indicators
The Zhiyun CRANE 4 emerges as a powerful and versatile gimbal, catering to the demands of professional filmmakers and content creators. Designed with precision and portability in mind, this gimbal stands out for its innovative features and attention to detail.
The CRANE 4 maintains the lightweight design characteristic of previous Zhiyun gimbals while enhancing its capabilities to accommodate heavier payloads. With a 13.2 lb load capacity, it's able to support cameras like the Canon EOS 5D Mark IV, Blackmagic Pocket Cinema Camera 6K Pro, Nikon Z8, Panasonic LUMIX S1H, and Sony a7S III with full-frame lenses attached.
A standout feature is the built-in balance indicator lights on each motor, providing immediate visual feedback on calibration status. This simplifies the balancing process, ensuring precise stabilization. Bluetooth connectivity allows seamless shutter control for supported cameras, eliminating cable hassle. The gimbal's design incorporates a sling grip, adjustable wrist rest, and an extended arm length for comfortable maneuvering even with heavy payloads.
The CRANE 4's 10W fill light, adjustable color temperature, and high CRI enhance its lighting capabilities. The 1.22″ color touchscreen and onboard controls offer easy access to settings and shooting modes, including Pan Follow, Lock Mode, Timelapse, and more. It's also compatible with follow focus motors and the TransMount Image Transmission system, expanding creative options.
With four high-capacity 18650 batteries providing up to 12 hours of runtime, and the ability to charge during operation using PD fast charging, the CRANE 4 ensures extended shooting sessions. Its commitment to precision, portability, and feature-rich design makes the Zhiyun CRANE 4 a compelling choice for filmmakers aiming to achieve dynamic visual storytelling.
Zhiyun CRANE 4 Gimbal Stabilizer: $669 at Amazon, B&H, Adorama.
Zhiyun CRANE 4 Gimbal Stabilizer Combo Kit: $749 at Amazon, B&H, Adorama.
---
A great gimbal aimed at professional filmmakers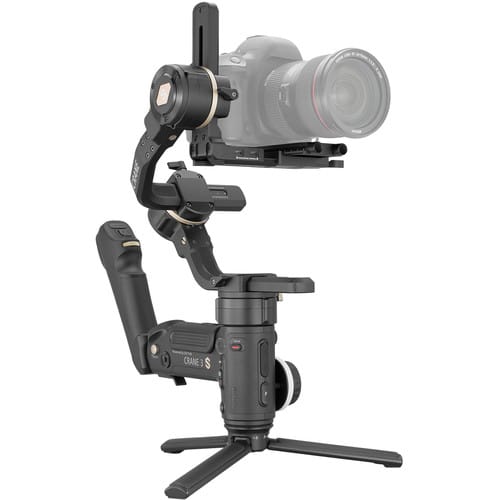 Zhiyun CRANE 3S Key Features
Max. Payload: 14.3 lb / 6.49 kg
Battery Runtime: 12 Hours (2600 mAh)
Connections: Bluetooth 5.0, USB-C
Display: No
Smartphone App: Yes
Compatiblitle Cameras: Click Here to Check
Dimensions: 346 x 344 x 98 mm
Weight: 5.45 lb / 2.47 kg
Warranty: 1 year
Special Feature: Redesigned Detachable SmartSling Handle, Zoom and Focus Wheel, Updated Axis Locking System, ViaTouch 2.0 Remote Motion Control, 55° Angled Roll Axis, DC Input for Direct Power and Charge, Mounting Threads for Accessories, Onboard Controls, Powerful Motors
Pros
6.49 kg payload
Sturdy build quality
Quick-release plate
Dual carrying options
Powerful enough serious cine gear
Cons
Very heavy for handheld use
No built-in wireless transmitter
Some controls awkwardly placed
The Zhiyun Crane 3S emerges as an exceptional gimbal tailored for professional filmmakers seeking superior performance. Engineered with robustness in mind, this heavy-duty stabilizer offers impressive camera movement precision and fluidity. Sporting a remarkable payload capacity and extended battery life, it's an excellent choice for heavy cine gear setups.
The Crane 3S stands out with its redesign that boasts detachable handle options, an axis-locking system upgrade, a robust 14.3 lb payload, and the advanced ViaTouch 2.0 motion control system. This iteration caters to a diverse array of cameras, from mirrorless to DSLR and cinema models, enhancing its versatility.
The ergonomic, angled handle brings stability to two-handed operation and empowers creative shooting angles like 330° roll shots. It integrates controls seamlessly, with an OLED status screen providing vital information at a glance. The SmartSling and EasySling handles offer distinct advantages, from integrated controls to comfortable grips. Battery life is robust, delivering up to 12 hours with the provided batteries. For prolonged shoots, an optional Transmount PowerPlus battery pack extends operation to 18 hours. The ViaTouch 2.0 app augments remote control capabilities via Bluetooth 5.0.
While the Crane 3S shines with innovation and adaptability, it's not without drawbacks. The weight makes it less suitable for extended handheld use, and the absence of built-in wireless transmission is noticeable. Some control placements could be more ergonomic.
In the realm of heavy-duty gimbals, the Zhiyun Crane 3S reigns supreme, offering unparalleled features for serious filmmakers. It's an embodiment of Zhiyun's dedication to innovation and quality, presenting an appealing option for those demanding professional-grade results from their cine gear.
Zhiyun CRANE 3S Handheld Stabilizer: $599 at Amazon, B&H, Adorama.
---
High Payload Capacity, Most High-end Gimbal
DJI RS 3 Pro Key Features:
Max. Payload: 9.9 lb / 4.5 kg
Battery Runtime: 12 Hours (Removable, 1950 mAh)
Battery Charging Time: 1.5 Hours (24W Fast-charging (QC 2.0 or PD))
Connections: Bluetooth 5.0, USB-C
Display: 1.8-inch OLED Touchscreen
Smartphone App: Yes
Compatiblitle Cameras: Click Here to Check
Weight: 2.5 lb / 1143 g
Dimensions: 415 x 218 x 195 mm, 276 x 268 x 68 mm (Folded)
Warranty: 1 year
Special Feature: LiDAR Focusing System, All-New Focus Motor, Long-Range Wireless Transmission, Extended carbon fiber material, 3rd-Gen RS Stabilization Algorithm, Automated Axis Locks, Wireless Shutter Control, Instant Mode Switching, Monitoring via Smartphone, Lots of accesories
Pros
Supports up to 4.5kg (10 lbs)
Active track Pro support and 1.8-inch OLED touch screen
Long battery life and fast charging
Huge potential through accessories
Strongest Carbon Fiber construction
LiDAR focusing technology compatibility
High-Bright Remote Monitoring
Intuitive and user-friendly control
Cons
Priced for pros
Some accessories are equally expensive
The DJI RS 3 Pro is the epitome of high-end gimbals, setting the bar incredibly high for professional videographers and photographers. If you demand the absolute best in stabilizing technology, this gimbal will not disappoint. It boasts a jaw-dropping payload capacity, supporting cameras weighing up to a whopping 9.9 lbs/4.5 kg, which is unparalleled in the market.
With a 12-hour battery life and rapid 1.5-hour quick charging using 24W Fast-charging (QC 2.0 or PD), you'll be able to keep your camera rolling for extended shoots without missing a beat. The 1.8-inch OLED touchscreen is both intuitive and user-friendly, granting easy access to the gimbal's plethora of features and modes. For added control and functionality, the DJI smartphone app complements this powerhouse gimbal seamlessly.
While the DJI RS 3 and RS 3 Mini cater to those seeking a more compact and lightweight option, the DJI RS 3 Pro is the ultimate tool for professionals and on-the-go filmmakers. Its advanced features and intuitive design are engineered to capture dynamic, high-quality footage effortlessly. Whether you're a seasoned filmmaker or just starting your journey, the DJI RS 3 Pro is your ticket to consistently smooth and steady footage.
In conclusion, if you aspire to elevate your video and photography to the highest level, the DJI RS 3 Pro deserves your serious consideration. With its astounding payload capacity, extended battery life, advanced features, and user-friendly design, it's a powerhouse suitable for both professionals and hobbyists. The DJI RS 3 Pro empowers you to capture flawless, cinematic shots with ease.
DJI RS 3 Pro Gimbal Stabilizer: $869 at Amazon, B&H, Adorama.
DJI RS 3 Pro Gimbal Stabilizer Combo: $1,099 at Amazon, B&H, Adorama.
---
DJI RS 2 Key Features:
Max. Payload: 10 lb / 4.5 kg
Battery Runtime: 12 Hours (1950 mAh / 30.3 Wh)
Battery Charging Time: 1.5 Hours
Connections: Bluetooth 5.0, WIFI, USB-C
Display: Advanced 1.4″ Full-Color LCD Touchscreen
Smartphone App: Yes
Compatiblitle Cameras: Click Here to Check
Dimensions: 410 x 260 x 195 mm
Weight: 1.07 kg / 1.177 kg (with Camera Plate) / 1.337 kg (with Handlebar)
Warranty: 1 year
Special Feature: RS 2 + 1080p Transmitter, Servo & More, Supports BMPCC 6K, ALEXA Mini LF, 1D X, SuperSmooth Feature for Long Lenses, Standard & Portrait Modes, Fine-Tune Camera Balancing Dial, Creative Functions Such as Time Tunnel
Pros
Supports up to 4.5kg (10 lbs)
1.4″ Full-Color LCD Touchscreen
12 Hours battery life and fast charging
DJI Titan stabilization algorithm
Creative functions such as Time Tunnel and Force Mobile
Single-tap switching to portrait mode
Splash-proof carry case included
SuperSmooth stabilization feature for long zoom lenses
Supports larger cameras such as the Blackmagic Pocket 6K and ALEXA Mini LF
Cons:
The DJI RS 2 Pro gimbal, succeeded by the RS 3 Pro yet still maintaining its worth, stands as an exceptional choice for videographers. Building on the legacy of the Ronin-S, the RS 2 boasts a revamped design with a payload capacity of up to 10 lb, achieved through monocoque carbon fiber axis arms and a shortened grip handle with a downsized battery cartridge. Remarkably, this enhanced structure manages to be approximately 25% lighter while retaining a robust 12-hour runtime.
Empowered by motors that are 20% more potent, the RS 2 accommodates heavyweight cameras including the Blackmagic Pocket 6K, Canon 1D X Mark III, Sony a7S III, and ALEXA Mini LF. A striking 1.4″ full-color LCD touchscreen introduces convenient access to gimbal settings and functionalities like time-lapse and hyperlapse, once exclusively accessible through the companion mobile app.
The dual-layer Manfrotto and Arca-Swiss camera mounting system, coupled with the ability to swiftly adjust for portrait mode, reflects attention to detail. Axis locks and a fine-tune balancing knob refine the setup process, ensuring optimal balance.
The RS 2 boasts a 12-hour battery life, with rechargeable USB Type-C battery cartridges and a removable grip handle. DJI's recommended 24W charger speeds up the 1.5-hour recharge. A splash-proof carry case with tailored compartments and an included mini tripod further elevate its user-friendliness.
The RS 2 Pro Combo enhances the workflow with extras like the DJI Ronin RavenEye Image Transmission System for 1080p video transmission and collaborative on-set work. Additional accessories include a focus motor, phone holder, focus gears, and HDMI cables.
With features like a 10 lb payload, 12-hour runtime, advanced LCD touchscreen, and manifold creative functions, the DJI RS 2 Pro undeniably represents an impressive tool for videographers seeking unparalleled stabilization.
DJI RS 2 Gimbal Stabilizer Pro Combo: $649 at B&H, Adorama, Amazon.
---
Feiyu Scorp Pro Key Features:
Max. Payload: 10.6 lb / 4.8 kg
Battery Runtime: 12 Hours (Non-removable, 2500 mAh)
Battery Charging Time: 2.75 Hours
Connections: Bluetooth 5.0, WIFI, USB-C
Display: 1.3″ Full-Color LCD Touchscreen
Smartphone App: Yes
Compatiblitle Cameras: Click Here to Check
Dimensions: 35.3 x 23.5 x 71.6 cm (Folded)
Weight: 4.6 lb / 2100 g
Warranty: 1 year
Special Feature: Detachable Remote Control Handgrip, Macromolecular Resin, Aluminum Alloy, Follow Modes for Customized Control, Fine Tune the Motor Power & Follow Speed, Customizable Buttons Improve Efficiency
The Feiyu SCORP Pro 3-Axis Gimbal Stabilizer is a game-changer for professional videographers using DSLR or mirrorless cameras. This robust stabilizer opens up a world of possibilities for achieving incredibly smooth and cinematic shots, whether you're shooting handheld or mounting it on an external car rig (available separately).
One standout feature of the SCORP Pro is its intuitive controls, including a detachable joystick that allows you to follow the action seamlessly. The joystick also features a 1.3″ touchscreen, giving you quick access to various shooting modes and precise settings, such as motor power and follow speed. This touch-sensitive interface makes adjustments on the fly a breeze.
The SCORP Pro doesn't stop there; it offers dual-wheel joystick controls for third-party follow focus and zoom systems, enhancing your creative control. Powered by a high-performance CPU, the anti-shake algorithm reacts lightning-fast to keep your shots stable, even in challenging shooting conditions.
Battery life is another highlight, with the 2500mAh battery providing up to twelve hours of usage on a single charge. And when it's time to recharge, the 18W rapid charging capability gets you back in action in no time.
Built to last, the SCORP Pro can handle a payload of up to 10.6 lbs, thanks to its aluminum alloy and synthetic macromolecular resin construction. Plus, the detachable joystick allows for remote operation, perfect for those hard-to-reach shots.
In summary, the Feiyu SCORP Pro Gimbal Stabilizer is a versatile and reliable tool that empowers videographers to capture professional-grade footage with ease. Its impressive features, including the detachable joystick, touchscreen controls, and long-lasting battery, make it a valuable addition to any filmmaker's kit.
Feiyu Scorp Pro 3-Axis Gimbal Stabilizer: $659 at Amazon, B&H, Adorama.
---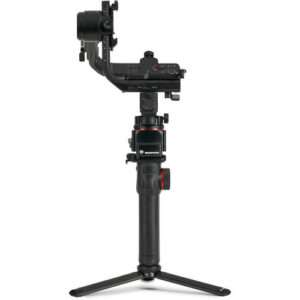 Manfrotto MVG300XM Key Features:
Max. Payload: 7.5 lb / 3.4 kg
Battery Runtime: 10 Hours (Non-removable, 2500 mAh)
Battery Charging Time: 2.6 Hours
Connections: WIFI, USB-C
Display: Fixed Touchscreen LCD
Smartphone App: Yes
Compatiblitle Cameras: Click Here to Check
Dimensions: 45.97 x 19.58 x 36.61 cm
Weight: 4.4 lb / 2 kg
Warranty: 1 year
Special Feature: Customizable Modular Design, Touch LCD Access to Most Modes/Settings, 501PL Platform & QR Plate, Axis Locks for Easy Balancing, 360° Panoramic Range, Tilt: +110 to -45°, Roll: +20 to -20°, Dual Charging Ports
Pros:
Supports up to 3.4kg
Touch screen changes modes
Remote control via detachable handle
Carry case
Cons:
Slow to charge (2.6 Hours)
Rebalancing with some zooms
The Manfrotto MVG300XM Modular Gimbal is a powerful and versatile tool designed specifically for videographers, filmmakers, and content creators. With its impressive load capacity of 7.5 lbs, this gimbal can effortlessly handle DSLR and mirrorless cameras with large lenses, making it a perfect choice for professionals seeking smooth pans, tilts, and tracking shots.
One standout feature of the MVG300XM is its customizable modular design. The detachable handle can be used as a wireless remote controller, providing greater flexibility in various shooting scenarios. It also allows for easy connection to other supports using the classic 501PL quick release configuration and 3/8″-16 threaded mount. Additionally, the included short 501PL plate enables mounting the handle on the GimBoom boom pole, expanding your shooting options.
The electronic multifunction knob with A and B buttons is another notable feature of this gimbal. It allows users to set up shooting points, enabling precise replication of shots and greater control over focus points. The integrated touchscreen display further enhances usability, allowing direct selection of different modes with a simple press of an icon. These features make it easy to achieve professional-looking footage with ease.
While the MVG300XM offers impressive performance, it's worth noting that its weight may pose a challenge for some users. Weighing in at 2kg, combined with a camera kit, it can quickly strain the arm during extended use. However, with a few shoots under your belt, you'll build up the necessary strength to handle this heavy lifter.
Overall, the Manfrotto MVG300XM Modular Gimbal is a top-tier option for videographers seeking professional-level stabilization. Its solid build quality, silent running capability, and wide range of shooting options make it a near-perfect system. Although it may not be suitable for everyone due to its higher price tag, it's an investment that will deliver exceptional results and elevate your filmmaking capabilities.
Manfrotto MVG300XM Modular Gimbal: $669.88 at Amazon, B&H, Adorama.
---
We want to extend our heartfelt appreciation for choosing our guide on the Fujifilm GFX 100 II gimbal. We genuinely believe that our recommendations have proven valuable in aiding you to discover the ideal gimbal that aligns with your specific requirements. Your feedback holds the utmost significance to us, as we are committed to consistently delivering pertinent and enlightening guides. We wholeheartedly invite you to share your insights, as they play a pivotal role in refining our content and enhancing the overall user experience. If you've had the opportunity to personally test any of the recommended gimbals, your perspectives would be greatly valued. Your firsthand experiences not only assist fellow readers but also empower them to make well-informed decisions.
Read more: