Best Gimbals for Nikon D6 in 2023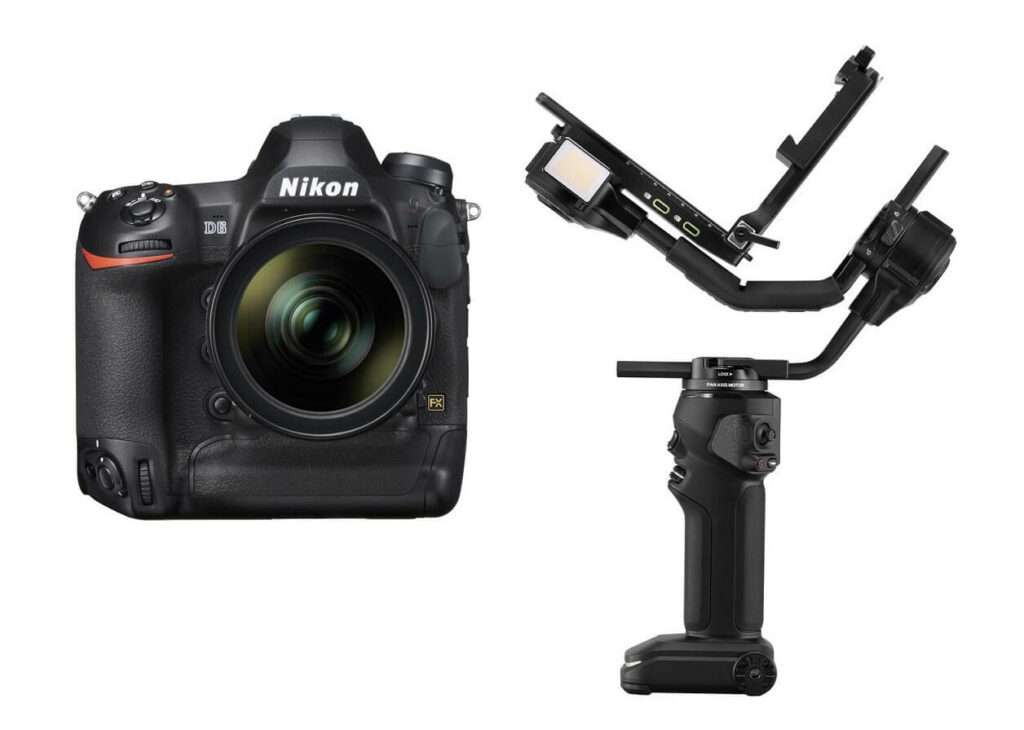 Designed specifically for professional sports photographers and photojournalists, the Nikon D6 stands as Nikon's flagship DSLR, boasting its most powerful autofocus (AF) performance in history with significant enhancements over its predecessor, the Nikon D5. Adept in both photography and videography realms, the Nikon D6 centers around a 20.8MP FX-format sensor and an EXPEED 6 image processor. This combination facilitates an impressive continuous shooting rate of 14 fps, a native ISO sensitivity range from 100 to 102400 (expandable up to ISO 3280000), and the capability to record UHD 4K video at 30 fps. However, to fully unleash the potential of this technological marvel and achieve impeccably smooth and stabilized videos, the need for a high-quality gimbal is paramount.
In this comprehensive guide, we embark on a journey to discover the best gimbals for the Nikon D6 DSLR camera. Our selections have undergone rigorous evaluation, considering critical aspects such as payload capacity, enduring battery life, unwavering stability, and accessible affordability.
Whether you're a seasoned professional venturing into the realm of cinematography or a passionate content creator dedicated to capturing life's priceless moments with unparalleled fluidity, our curated assortment of gimbals caters to diverse aspirations and budgets. Without delay, let's delve into exploring the top recommended gimbals for the Nikon D6 DSLR camera.
And if you're interested in other accessories for your Nikon D6, be sure to check out our Nikon D6 Lens Guide and Nikon D6 Memory Card Guide for even more helpful recommendations.
Nikon D6 Store Links at Amazon, B&H, Adorama.
Best Gimbals for Nikon D6
Zhiyun's best gimbal for heavier cameras
Zhiyun CRANE 4 Key Features:
Max. Payload: 13.2 lb / 6 kg
Battery Runtime: 12 Hours (2600 mAh)
Battery Charging Time: 1.5 Hours (Supports PD Fast-charging)
Connections: Bluetooth 5.0, USB-C
Display: 1.22″ Color Touchscreen
Smartphone App: Yes
Compatiblitle Cameras: Click Here to Check
Weight: 3.68 lb / 1.67 kg (without Tripod)
Dimensions: 340 x 280 x 70 mm
Warranty: 1 year
Special Feature: Extended Arm for Full-Frame Lenses, Dual-Layer Quick Release Plates, 360° Pan, 207° Tilt, 70° Roll Rotation, Built-In 3200 Lux Fill Light, Adjustable Color Temperature, Creative Operation Modes, 1.22″ Touchscreen, Balance Indicators
The Zhiyun CRANE 4 stands as a remarkable addition to the world of gimbals, combining lightweight design, extensive features, and exceptional stability for filmmakers and content creators. Its extended arm length and robust motors allow it to support heavier payloads, including full-frame DSLRs and compact cinema cameras like the Blackmagic Pocket Cinema Camera 6K, ZCAM models, and SIGMA FP series, providing unparalleled precision and portability.
A standout feature is the integrated balance indicator lights on each motor, offering a quick visual check of calibration status, ensuring precise and reliable stabilization. The gimbal's Bluetooth connectivity enables seamless shutter control with supported cameras, eliminating the need for cables and offering remote operation convenience. The ergonomic design, including an adjustable sling grip and wrist rest, fosters comfortable and controlled maneuvering.
Equipped with a 1.22-inch color touchscreen, the CRANE 4 provides easy access to essential functions, such as balance settings, operating modes, and real-time status monitoring. The built-in 10W fill light, with adjustable color temperature and excellent color rendering capabilities, adds to its versatility.
With up to 12 hours of runtime from four high-capacity 18650 batteries, along with PD fast charging, the CRANE 4 ensures extended shooting without interruption. It also integrates seamlessly with a range of professional accessories, expanding its creative possibilities.
In conclusion, the Zhiyun CRANE 4 masterfully combines cutting-edge features, professional-grade capabilities, and ergonomic design to empower filmmakers and content creators to unleash their creativity and tell compelling visual stories with precision and ease.
Zhiyun CRANE 4 Gimbal Stabilizer: $669 at Amazon, B&H, Adorama.
Zhiyun CRANE 4 Gimbal Stabilizer Combo Kit: $749 at Amazon, B&H, Adorama.
---
A great gimbal aimed at professional filmmakers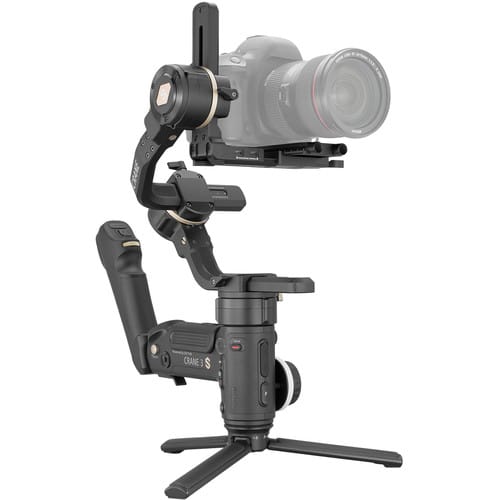 Zhiyun CRANE 3S Key Features
Max. Payload: 14.3 lb / 6.49 kg
Battery Runtime: 12 Hours (2600 mAh)
Connections: Bluetooth 5.0, USB-C
Display: No
Smartphone App: Yes
Compatiblitle Cameras: Click Here to Check
Dimensions: 346 x 344 x 98 mm
Weight: 5.45 lb / 2.47 kg
Warranty: 1 year
Special Feature: Redesigned Detachable SmartSling Handle, Zoom and Focus Wheel, Updated Axis Locking System, ViaTouch 2.0 Remote Motion Control, 55° Angled Roll Axis, DC Input for Direct Power and Charge, Mounting Threads for Accessories, Onboard Controls, Powerful Motors
Pros
6.49 kg payload
Sturdy build quality
Quick-release plate
Dual carrying options
Powerful enough serious cine gear
Cons
Very heavy for handheld use
No built-in wireless transmitter
Some controls awkwardly placed
The Zhiyun Crane 3S is an exceptional gimbal tailored for professional filmmakers, designed to handle heavy cine gear with finesse. Its remarkable performance and seamless camera movements underscore its capabilities. Boasting an impressive payload capacity and extended battery life, this gimbal ensures extended shooting sessions without interruptions.
Constructed as a robust stabilizing tool, the Crane 3S stands as a substantial upgrade from its predecessors. With features like detachable handles, an enhanced axis-locking mechanism, and the ViaTouch 2.0 motion control system, Zhiyun has gone to great lengths to deliver innovation. The substantial 6.5kg payload capacity positions this gimbal as a reliable choice for larger mirrorless, DSLR, or cinema cameras.
The ergonomic design of the Crane 3S, exemplified by the angled handle, provides a comfortable two-handed operation that enhances stability. The modular approach, including an extension arm for larger cameras, adds to its versatility. The included SmartSling and optional EasySling handles offer unique control options, ensuring flexibility in usage.
While the gimbal's strength is its versatility, it comes with a trade-off. The Crane 3S's weight makes it less suitable for prolonged run-and-gun scenarios. Furthermore, the absence of a built-in wireless transmitter and some control placements might pose minor inconveniences.
In summary, the Zhiyun Crane 3S excels as a heavy-duty gimbal catering to serious filmmakers. Its adaptability to a range of camera sizes, thoughtful design, and array of features underscore its status as a top-tier choice in its category. For professionals seeking a reliable and powerful gimbal to elevate their videography, the Crane 3S stands out as an excellent investment.
Zhiyun CRANE 3S Handheld Stabilizer: $599 at Amazon, B&H, Adorama.
---
DJI RS 2 Key Features:
Max. Payload: 10 lb / 4.5 kg
Battery Runtime: 12 Hours (1950 mAh / 30.3 Wh)
Battery Charging Time: 1.5 Hours
Connections: Bluetooth 5.0, WIFI, USB-C
Display: Advanced 1.4″ Full-Color LCD Touchscreen
Smartphone App: Yes
Compatiblitle Cameras: Click Here to Check
Dimensions: 410 x 260 x 195 mm
Weight: 1.07 kg / 1.177 kg (with Camera Plate) / 1.337 kg (with Handlebar)
Warranty: 1 year
Special Feature: RS 2 + 1080p Transmitter, Servo & More, Supports BMPCC 6K, ALEXA Mini LF, 1D X, SuperSmooth Feature for Long Lenses, Standard & Portrait Modes, Fine-Tune Camera Balancing Dial, Creative Functions Such as Time Tunnel
Pros
Supports up to 4.5kg (10 lbs)
1.4″ Full-Color LCD Touchscreen
12 Hours battery life and fast charging
DJI Titan stabilization algorithm
Creative functions such as Time Tunnel and Force Mobile
Single-tap switching to portrait mode
Splash-proof carry case included
SuperSmooth stabilization feature for long zoom lenses
Supports larger cameras such as the Blackmagic Pocket 6K and ALEXA Mini LF
Cons:
The DJI RS 2 Pro gimbal, while succeeded by the DJI RS 3 Pro, remains an exceptional choice in its own right. Evolving from the acclaimed Ronin-S, the RS 2 is a marvel of design, boasting a staggering 10 lb payload capacity, setting a new benchmark for its class. The use of monocoque carbon fiber axis arms and a streamlined grip handle infuses the RS 2 with a 25% weight reduction and enhanced compactness. With a 12-hour runtime and 20% more potent motors, this gimbal supports heavyweight cameras such as the Blackmagic Pocket 6K, Canon 1D X Mark III, Sony a7S III, and ALEXA Mini LF.
The 1.4″ full-color LCD touchscreen offers quick access to settings and advanced features like time-lapse and hyperlapse, which are no longer solely reliant on the companion mobile app. The DJI Titan stabilization algorithm orchestrates unparalleled smoothness, further enhanced by the SuperSmooth feature catering to micro-adjustments when using up to 100mm zoom lenses.
The RS 2 shines in its accessory ecosystem, boasting dual RSA ports with electrical contacts for attachments, including a focus wheel and dual handle. The iOS/Android Ronin app facilitates creativity, introducing functions like Time Tunnel and Track for dynamic shots. RavenEye transmission system complements Force Mobile for even more responsive control. Dual-layer Manfrotto plus Arca-Swiss mounting, portrait mode adjustment, and fine-tune balancing provide additional flexibility.
The RS 2 comes with a splash-proof case, a mini tripod, and in the DJI RS 2 Pro Combo, an array of accessories including the RavenEye system, focus motor, phone holder, focus gears, and HDMI cables. With a max payload of 10 lb, 12-hour runtime, and a myriad of innovative features, the RS 2 makes its mark as an elite gimbal option.
DJI RS 2 Gimbal Stabilizer Pro Combo: $649 at B&H, Adorama, Amazon.
---
We extend our heartfelt appreciation for selecting our Nikon D6 gimbal guide. We firmly believe that our recommendations have been instrumental in assisting you in discovering the ideal gimbal tailored to your specific requirements. We warmly encourage you to share your insights, as they play a pivotal role in honing our content and enhancing the overall user experience. If you've had the opportunity to personally test any of the suggested gimbals, your perspectives would be highly valued. Your firsthand encounters not only aid other readers but also empower them to make well-considered choices.
Read more: