New Match Technical Thumbs Up EP-SQ Grip for Leica Q Camera
Ashwin Rao sent some information and pictures about the new Match Technical Thumbs Up EP-SQ grip for Leica Q Typ 116 camera to Leicarumors. Take a look!
I recently had a chance to test out a production proof of the Thumbs Up EP-SQ grip for the Leica Q. I can honestly say that this is a great ergonomic addition to the already fantastic camera, adding that little extra bit of purchase that makes MatchTechnical's Thumbs Up grips so popular. The added benefit of this Thumbs Up is that its design limits inadvertently bumping the Diopter adjustment dial, which often does go out of whack without protection. Once again, you lose the hotshoe, but with the Q's ISO capacities, a flash is rarely needed. I can confidently say that that Thumbs Up EP-SQ does much of the same for the Leica Q as it does for those cameras….it adds a nice secure grip if one feels that they require more than the camera's own offerings.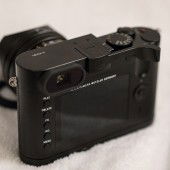 The Leica Q (Typ 116) Fixed Lens Full Frame Compact Camera wields a full-frame 24.2-megapixel CMOS sensor within its exceptionally portable, and beautiful, body. Leveraging the power of the Leica Maestro II series image processor, high-resolution, low-noise imaging is possible at sensitivities up to ISO 50,000 and at a continuous rate of 10 fps.
Now you can pre-order Leica Q (Typ 116) digital camera for $4,250 at B&H, Adorama, or buy it right now at Amazon for at least $6,669.