Best Gimbals for Canon EOS 90D in 2023
Replacing its predecessor, the immensely popular 80D, the Canon EOS 90D emerges as an impeccable choice for advanced-amateur and enthusiast photographers. With its enhanced 32.5MP APS-C CMOS sensor and formidable DIGIC 8 image processor, the Canon EOS 90D effortlessly produces UHD 4K30p and Full HD 120p videos, and it supports continuous stills shooting rates up to 10 fps. However, to unlock the true potential of this technological powerhouse and achieve flawlessly smooth, stabilized videos, a high-quality gimbal becomes an indispensable tool.
Within this extensive guide, we proudly present an expertly curated collection of the best gimbals for the Canon EOS 90D. Our selections have been meticulously chosen, taking into account critical factors such as payload capacity, battery longevity, stability, and affordability.
Whether you're a seasoned professional transitioning into the captivating realm of cinematography or an enterprising content creator committed to capturing life's most cherished instances with unprecedented fluidity, our carefully chosen array of gimbals caters comprehensively to diverse requirements and financial considerations. From top-of-the-line stabilizers boasting an orchestra of features to more budget-conscious alternatives that refuse to compromise on excellence, our compilation is thoughtfully designed to guarantee that every Canon EOS 90D user discovers their ideal counterpart.
Without any further delay, let us plunge into an exploration of the top recommended gimbals for the Canon EOS 90D DSLR camera.
And if you're interested in other accessories for your Canon EOS 90D, be sure to check out our Canon EOS 90D Lens Guide and Canon EOS 90D Memory Card Guide for even more helpful recommendations.
Canon EOS 90D Store Links at Amazon, B&H, Adorama.
Best Gimbals for Canon EOS 90D
Top Recommended and Popular Gimbal
DJI RS 3 Key Features:
Max. Payload: 6.6 lb / 3 kg
Battery Runtime: 12 Hours (Removable, 3000 mAh)
Battery Charging Time: 2.5 Hours (Supports 18W PD Fast-charging)
Connections: Bluetooth 5.0, USB-C
Display: 1.8-inch OLED Touchscreen
Smartphone App: Yes
Compatiblitle Cameras: Click Here to Check
Weight: 2.2 lb / 990 g
Dimensions: 410 x 260 x 195 mm
Warranty: 1 year
Special Feature: 3rd-Gen RS Stabilization Algorithm, Instant Mode Switching, Supports Wireless Image Transmitter, Motion Control with Smartphone, PD Fast Charging, Multiple Operation Modes, Fine-Tuning Knob on Tilt Axis, Wireless Shutter Control, Lots of accessories
Pros
1.8-inch OLED Color touchscreen
Up to 3 kg payload
Beyond Smooth
Instant Mode Switching
Customizable Front Dial
Bluetooth shutter button
Stabilizes full-frame systems
Wireless and integrated controls
Quick-Release Design
12-Hour Operating Time + Fast Charging
Cons
The DJI RS 3 gimbal is a remarkable choice for vloggers seeking a lightweight and compact option with impressive payload capabilities. With a payload of 3.0 kg, this gimbal is ideal for mirrorless/DSLR/compact shooters who prioritize traveling light, making it particularly suitable for travel vloggers and elopement wedding filmmakers.
Compared to its predecessors, the DJI RS 3 boasts significant quality-of-life improvements. It features stronger motors, a larger 1.8″ OLED touchscreen, and an auto-lock axis feature, all packed into a compact setup. Weighing only 990g at the base, the RS 3 is substantially lighter and smaller than the Ronin-S, making it highly convenient to transport and set up.
One of the most notable enhancements of the DJI RS 3 is its increased payload support, offering a 20% boost in motor strength over the DJI RSC2 and a payload weight of 3 kg, which is quite impressive for its compact size. This enhanced payload capability allows for a mainstream camera setup without sacrificing portability.
The DJI RS 3 includes several convenient features such as a focus and zoom control ring, a trigger for fixing camera position, a double-tap for recentring the camera, and a three-tap gesture for selfie mode rotation. The handle incorporates slots for attachments like a briefcase handle and video monitor. The handle grip lock mechanism, similar to the RS2, features a swing lock to keep it secure.
With a record button for video on the front and a customizable M button that can toggle modes or act as a stills shutter, the DJI RS 3 offers versatile control options. The side joystick enables easy control of gimbal movement, and the display facilitates quick switching between different settings and modes like 3D roll 360, portrait, and panorama. Additionally, the gimbal allows for adjusting follow speed, gimbal responsiveness, and provides enhanced control through the DJI Ronin mobile app, which offers user profiles, force mobile, and Bluetooth-enabled basic camera functions.
Overall, the DJI RS 3 stands out as an exceptional gimbal, offering a lightweight design with a 6.6 lb payload, instant mode switching, a customizable front dial, and a Bluetooth shutter button. It provides stabilization for full-frame systems, integrates wireless controls, and features a quick-release design. With a 12-hour operating time and fast charging capabilities, it caters to the needs of vloggers who require a gimbal that can keep up with their busy schedules. However, due to its compact size, it may not be suitable for use with long lenses. Nonetheless, the DJI RS 3 is an outstanding gimbal that is sure to satisfy the needs of most vloggers seeking a lightweight and powerful option.
DJI RS 3 Gimbal Stabilizer: $549 at Amazon, B&H, Adorama.
DJI RS 3 Gimbal Stabilizer Combo: $719 at Amazon, B&H, Adorama.
---
Excellent gimbal with great value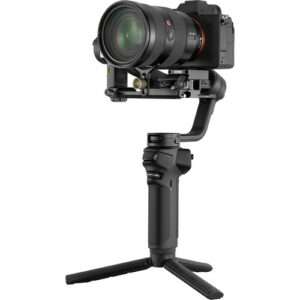 Zhiyun WEEBILL 3S Key Features:
Max. Payload: 14.33 lb / 6.5 kg
Battery Runtime: 11.5 Hours (2600 mAh)
Battery Charging Time: 2 Hours (Supports 14W PD Fast-charging)
Connections: Bluetooth 5.0, USB-C
Display: 0.96-inch Non-touch Single-color screen
Smartphone App: Yes
Compatiblitle Cameras: Click Here to Check
Weight: 2.33 lb / 1.05 kg
Dimensions: 305 x 210 x 72.5 mm (Folded)
Warranty: 1 year
Special Feature: Optimized 2.5 Sling Structure, Integrated 1000 Lux Fill Light, Landscape / Portrait integrated quick release plate, Bluetooth Shutter Control, Native Portrait Shooting, Control Wheel, Trigger Button
Pros:
Incredibly comfortable
Built-in light
Handles heavy cameras
Competitively priced
Landscape / Portrait integrated quick release plate
Powerful motor and stabilization
Easy trigger and wheel control
Extended handle grip and wrist support
Cons:
The Zhiyun Weebill 3S emerges as a powerhouse in the realm of compact gimbals, catering to professionals and enthusiasts seeking unparalleled stability for heavier camera setups. Boasting an impressive 14.33 lb/6.5 kg payload capacity, it tackles DSLRs and mirrorless cameras with ease, ensuring your videos are smooth and cinematic.
The Weebill 3S integrates innovative features like wireless shutter control, enhanced fill light, and Sling Mode 2.5, building upon its predecessor's success. The sleek 0.96″ touchscreen simplifies settings adjustment, while Bluetooth 5.0 facilitates remote camera shutter operation. The real marvel lies in its optimized sling structure and integrated fill light, ensuring a compact design without compromising on performance.
A highlight is the Landscape/Portrait switch on the quick release plate, ideal for versatile content creation across platforms. The 11.5-hour battery life and swift PD fast-charging capability enhance the gimbal's endurance for prolonged shoots.
The 2.5 Sling Mode introduces a user-friendly interface while conserving energy, allowing diverse shooting styles. The upgraded algorithm ensures seamless camera movements, while the Bluetooth shutter compatibility streamlines the shooting process.
While the small OLED screen might not fully utilize the gimbal's capabilities, it's a minor trade-off considering the exceptional features it offers. With a competitive price tag, powerful motor, and robust stabilization, the Weebill 3S is an excellent choice for content creators seeking professional-grade stability and flexibility. Its thoughtful design, extended grip, and built-in light set it apart in the realm of compact gimbals, making it a formidable tool for elevating your videography game.
Zhiyun WEEBILL 3S Gimbal Stabilizer: $319 at Amazon, B&H.
---
Zhiyun's best gimbal for heavier cameras
Zhiyun CRANE 4 Key Features:
Max. Payload: 13.2 lb / 6 kg
Battery Runtime: 12 Hours (2600 mAh)
Battery Charging Time: 1.5 Hours (Supports PD Fast-charging)
Connections: Bluetooth 5.0, USB-C
Display: 1.22″ Color Touchscreen
Smartphone App: Yes
Compatiblitle Cameras: Click Here to Check
Weight: 3.68 lb / 1.67 kg (without Tripod)
Dimensions: 340 x 280 x 70 mm
Warranty: 1 year
Special Feature: Extended Arm for Full-Frame Lenses, Dual-Layer Quick Release Plates, 360° Pan, 207° Tilt, 70° Roll Rotation, Built-In 3200 Lux Fill Light, Adjustable Color Temperature, Creative Operation Modes, 1.22″ Touchscreen, Balance Indicators
The Zhiyun CRANE 4 is a remarkable addition to the world of gimbals, delivering a blend of precision, portability, and innovation that caters to both seasoned filmmakers and those new to gimbal operation. This lightweight gimbal impresses with its ability to support heavy payloads, making it an ideal choice for full-frame DSLR and mirrorless cameras. The extended arm length and powerful motors ensure a new level of precision in movement, while the lightweight design and ergonomic features enable extended usage without fatigue.
One of the standout features is the inclusion of built-in balance indicator lights on each motor. This ingenious feature provides visual cues for balance calibration, streamlining setup and contributing to reliable stabilization. The CRANE 4's wireless shutter control via Bluetooth adds to its convenience, eliminating the hassle of tangled cables and enabling remote recording and photo capture with ease.
The gimbal's versatility is further enhanced by its adjustable sling grip and ergonomic wrist rest, allowing seamless transitions between sling and two-handed modes. Its quick-release module facilitates effortless shifts between landscape and portrait orientations, accommodating diverse shooting demands.
The CRANE 4's integrated 1.22-inch color touchscreen empowers users to customize settings and monitor real-time information, while its powerful built-in fill light with adjustable color temperature provides creative lighting options.
Impressively, the gimbal's battery life stands out with up to 12 hours of runtime, ensuring uninterrupted shooting even during all-day events. The incorporation of follow focus and video transmitter integration further expands its capabilities, catering to professional needs.
In conclusion, the Zhiyun CRANE 4 showcases an exceptional combination of innovation, ease of use, and performance. Its attention to detail, from built-in balance indicators to wireless shutter control, reflects a commitment to facilitating dynamic visual storytelling. With its ability to handle heavy payloads and advanced features, the CRANE 4 emerges as a versatile tool for filmmakers and content creators seeking precision and portability in their work.
Zhiyun CRANE 4 Gimbal Stabilizer: $669 at Amazon, B&H, Adorama.
Zhiyun CRANE 4 Gimbal Stabilizer Combo Kit: $749 at Amazon, B&H, Adorama.
---
Affordable Gimbal with excellent performance
Feiyu SCORP-C Key Features:
Max. Payload: 5.5 lb / 2.5 kg
Battery Runtime: 13 Hours (Non-removable, 2500 mAh)
Battery Charging Time: 1.6 Hours
Connections: Bluetooth, USB-C
Display: No
Smartphone App: Yes
Compatiblitle Cameras: Click Here to Check
Weight: 2.7 lb / 1.2 kg (with Camera Plate)
Dimensions: 280.8 x 266.2 x 71.3 mm (Folded), 314.4 x 243.3 x 210.7 mm
Warranty: 1 year
Special Feature: Control via Buttons and App, Quick Release Camera Plate, Five Follow Modes for Customized Control, Three 1/4″-20 Mounting Threads, USB Type-C Camera Connections, Macromolecular Resin, Aluminum Alloy, Motorized 3-Axis Gimbal, Folding Aileron Bracket, Various shooting modes on Feiyu SCORP APP, Various Automated Modes
$269 at Amazon.
Pros
Balance and setup is far easier
Underslung grip is comfortable
Incredibly stable and smooth
Longer battery runtime with fast charging
Exceptionally economical
Cons
Camera life dramatically impacted by weight
App needs a LOT of work
The Feiyu SCORP-C is a standout 3-axis gimbal that offers excellent performance and stability for DSLR cameras and lightweight mirrorless cameras, all while being budget-friendly. With a generous maximum payload of 2.5kg, it easily accommodates various camera models, making it a versatile choice for videographers on a budget.
One of the most appealing aspects of the Feiyu SCORP-C is its lightweight and compact design, weighing in at only 1.2kg with the camera plate attached. This portability makes it a breeze to carry around, and the folding aileron bracket allows for effortless storage when not in use.
The gimbal boasts an array of shooting modes, including pan-follow, tilt-follow, and lock mode, providing flexibility in capturing smooth footage. Additionally, the selfie mode caters perfectly to vloggers and content creators who need to film themselves on the move. With five follow modes for customized control, users can achieve the perfect shot in any filming scenario.
The Feiyu SCORP-C impresses with its exceptional battery life, offering a runtime of up to 13 hours on a single charge. Although the battery is non-removable, the USB-C charging port allows for quick and convenient recharging, ensuring you can focus more on filming and less on battery concerns.
Despite its affordability, the gimbal maintains an excellent level of performance and stability, making it a reliable option for mirrorless camera users. Its intuitive controls and ergonomic design make it easy to handle, while the app connectivity adds further convenience for adjustments and settings.
While the Feiyu SCORP-C's strengths are evident, the app does have room for improvement, and the weight of the camera can impact battery life significantly. Nevertheless, the overall value, stability, and smooth performance offered by the SCORP-C make it a compelling choice for filmmakers seeking an economical and high-quality stabilizer.
In conclusion, the Feiyu SCORP-C stands as a commendable choice for those in search of an affordable gimbal without compromising on performance and features. Its lightweight, versatile design, coupled with extended battery life and multiple shooting modes, make it a reliable companion for capturing dynamic and stabilized footage with mirrorless and DSLR cameras.
Feiyu SCORP-C 3-Axis Gimbal Stabilizer: $269 at Amazon.
---
DJI RS 2 Key Features:
Max. Payload: 10 lb / 4.5 kg
Battery Runtime: 12 Hours (1950 mAh / 30.3 Wh)
Battery Charging Time: 1.5 Hours
Connections: Bluetooth 5.0, WIFI, USB-C
Display: Advanced 1.4″ Full-Color LCD Touchscreen
Smartphone App: Yes
Compatiblitle Cameras: Click Here to Check
Dimensions: 410 x 260 x 195 mm
Weight: 1.07 kg / 1.177 kg (with Camera Plate) / 1.337 kg (with Handlebar)
Warranty: 1 year
Special Feature: RS 2 + 1080p Transmitter, Servo & More, Supports BMPCC 6K, ALEXA Mini LF, 1D X, SuperSmooth Feature for Long Lenses, Standard & Portrait Modes, Fine-Tune Camera Balancing Dial, Creative Functions Such as Time Tunnel
Pros
Supports up to 4.5kg (10 lbs)
1.4″ Full-Color LCD Touchscreen
12 Hours battery life and fast charging
DJI Titan stabilization algorithm
Creative functions such as Time Tunnel and Force Mobile
Single-tap switching to portrait mode
Splash-proof carry case included
SuperSmooth stabilization feature for long zoom lenses
Supports larger cameras such as the Blackmagic Pocket 6K and ALEXA Mini LF
Cons:
Still a mess of wires
Maybe too small
The DJI RS 2 gimbal is an impressive piece of equipment that offers a range of enhancements over its predecessor, the Ronin-S. With a maximum payload of 10 lb, the RS 2 is lighter and more compact, making it easier to handle during long shooting sessions. The use of monocoque carbon fiber axis arms and a shorter grip handle contribute to its reduced weight and improved portability. Despite its smaller size, the gimbal still boasts an impressive 12-hour runtime.
One notable upgrade is the inclusion of a 1.4″ full-color LCD touchscreen, which allows for easy access to gimbal settings and features such as time-lapse and hyperlapse. Previously, these features were only accessible through the companion mobile app. The RS 2 also incorporates the DJI Titan stabilization algorithm, resulting in improved stabilization and increased smoothness. Additionally, the SuperSmooth feature compensates for micromovements when using zoom lenses, ensuring fluid motion in your shots.
The RS 2 offers flexibility and expandability with two RSA ports for dedicated accessories. These ports feature electrical contacts and NATO mounts, allowing for quick attachment and detachment of optional accessories such as a focus wheel, twist-grip dual handle, and universal mount. The gimbal also supports the DJI Ronin app, which provides a range of creative features, including Time Tunnel, Track, and Force Mobile.
The RS 2 is designed with user convenience in mind. It features a dual-layer Manfrotto plus Arca-Swiss camera mounting system, allowing for easy adjustment and balancing of the camera. The gimbal can be adjusted to portrait mode at the touch of a button, making it ideal for social media content creation. The removable battery cartridge can be swapped out for another one, and it supports fast charging, allowing for a quick recharge in about 1.5 hours.
Included in the DJI RS 2 Pro Combo are additional accessories that further enhance the workflow. The Ronin RavenEye Image Transmission System enables real-time video transmission up to 330′ with minimal latency, perfect for on-set collaboration. The focus motor, phone holder, focus gears, and HDMI cables complete the package, providing users with a comprehensive set of tools.
Overall, the DJI RS 2 gimbal is a powerful and versatile tool for filmmakers and content creators. Its lightweight design, improved stabilization, and array of features make it an excellent choice for capturing smooth and professional-looking footage.
DJI RS 2 Gimbal Stabilizer Pro Combo: $649 at B&H, Adorama, Amazon.
---
Designed for DSLR cameras with a massive 3.2kg payload
Moza AirCross 3 Key Features:
Max. Payload: 7.1 lb / 3.2 kg
Battery Runtime: 19 Hours (Non-removable, 3500 mAh)
Battery Charging Time: 1.4 Hours
Connections: Bluetooth 5.0, WIFI, USB-C
Display: OLED Built-in Screen
Smartphone App: Yes
Compatiblitle Cameras: Click Here to Check
Dimensions: 310 x 190 x 170 mm, 270 x 225 x 52 mm (Folded)
Weight: 2.9 lb / 1.3 kg (without Handlebar)
Warranty: 1 year
Special Feature: 4 in 1 convertible design, Axis Locks for Simplified Balancing, Angled motor arm for clear camera view, 3* 1/4 Extension Holes, Manual Position 2.0 & Sports Mode 2.0, Wide Compatibility, Stable Algorithm, One Shutter Button Control for All, Upgraded UI Design, Folds down to size of A4 size paper
Pros
Great build quality
4 in 1 convertible design
Easy vertical/horizontal mode switch
Can accommodate large cameras
Optional Active tracking module
Enhance battery power and quick charging
Higher payload and lightest weight
Straightforward control and handling
Cons
The user interface could be improved
No battery level indicator
Weight could be a problem with a heavy camera
The MOZA AirCross 3 is a highly versatile 3-axis gimbal specifically designed for professional video-makers using mirrorless and DSLR cameras. With a maximum payload of 7.1 lbs (3.2 kg), this gimbal supports a wide range of camera bodies, making it suitable for various shooting scenarios.
What sets the MOZA AirCross 3 apart is its 4-in-1 convertible design, allowing for quick and seamless transitions between different shooting modes such as the sling mode, dual-handle mode, and vertical mode. This versatility provides content creators with the flexibility they need to capture their desired shots. Additionally, the angled motor arm ensures a clear view of the camera's LCD screen, facilitating easy monitoring of the footage.
Battery life is impressive, lasting up to 19 hours on a single charge, and it can be quickly recharged in just 1.4 hours. The OLED built-in screen enables easy monitoring of the gimbal's settings and status. However, it's worth noting that the battery is non-removable, which means you can't swap it out for a fresh one.
The MOZA AirCross 3 boasts a sleek and durable metal body design, providing excellent build quality. The axis locks make it easy to balance the camera on the gimbal, ensuring quick and efficient setup. Furthermore, its wide compatibility makes it suitable for use with various cameras, not just the Canon EOS R6 Mark II.
One area for improvement is the user interface, which could be more user-friendly. Additionally, the absence of a battery level indicator may pose a challenge for those who want to monitor the gimbal's battery status. The weight of the gimbal itself, at 2.9 lbs (1.3 kg) without the handlebar, may also be a concern for users with a heavy camera setup.
In conclusion, the MOZA AirCross 3 is an excellent option for those who seek a versatile, high-quality, and durable gimbal. Its 4-in-1 convertible design, angled motor arm, and axis locks facilitate easy balancing and mode switching. Impressive battery life, quick charging, and wide compatibility enhance its appeal. While the user interface and absence of a battery level indicator could be improved, the MOZA AirCross 3 remains a great choice for content creators aiming to capture stable and smooth footage.
Moza AirCross 3 Gimbal Stabilizer: $469 at Amazon, B&H, Adorama.
---
We want to express our sincere gratitude for choosing our Canon EOS 90D gimbal guide. We genuinely hope that our recommendations have been helpful in your quest to find the perfect gimbal tailored to your specific needs. Your feedback is incredibly valuable to us, as we are committed to consistently delivering relevant and informative guides. We kindly invite you to share your thoughts with us, as they play a crucial role in enhancing our content and improving the overall experience for all our users. If you've had the chance to personally test any of the gimbals we suggested, we would greatly appreciate your insights. Your firsthand experiences not only benefit other readers but also assist them in making well-informed decisions.
Read more: