Tamron 150-500mm f/5-6.7 Di III VC VXD & 11-20mm f/2.8 Di III-A RXD Lenses Announced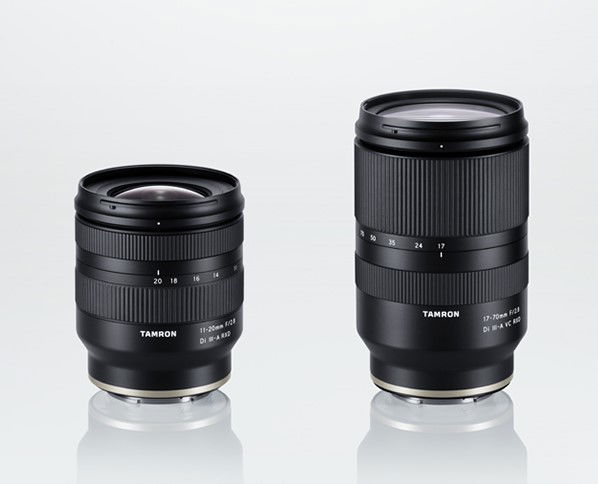 Tamron today officially announced the new 150-500mm f/5-6.7 Di III VC VXD ultra-telephoto zoom lens for Sony full-frame E-mount mirrorless cameras and the new 11-20mm f/2.8 Di III-A RXD ultra wide-angle zoom lens for Sony APS-C E-mount mirrorless cameras.
A super-telephoto zoom lens exclusively for mirrorless cameras that has achieved an amazingly compact design.
The 150-500mm F / 5-6.7 Di III VC VXD (Model A057) is an extremely compact and high-quality Sony E-mount lens that overturns the conventional wisdom of super-telephoto zoom. While achieving a telephoto end of 500 mm, the size is 209.6 mm in length and the maximum diameter is φ93 mm, which makes it possible to take handheld shots comfortably. We are particular about image quality, and by adopting a lens configuration of 25 elements in 16 groups and a special glass material or composite aspherical lens, we suppress the occurrence of various aberrations such as chromatic aberration. In addition, it is equipped with a high-speed, high-precision linear motor focus mechanism VXD (Voice-coil eXtreme-torque Drive) and a camera shake correction mechanism VC (Vibration Compensation), so you will not miss any moment. In addition, the shortest shooting distance of 0.6m at the wide-angle end of 150mm has been achieved, and usability has also been improved by adopting a tripod mount with a strap hole, a simple drip-proof structure that supports outdoor shooting, and an antifouling coat. I will. From landscapes to sports and wild animals, you can freely aim at the one you want to shoot. Please enjoy the powerful super-telephoto world.
Specifications:
Model
A057
Focal Length
150-500mm
Maximum Aperture
F5-6.7
Angle of View (diagonal)
16° 25′-4° 57' (for full-frame mirrorless format)
Optical Construction
25 elements in 16 groups
Minimum Object Distance
0.6m /23.6 in (WIDE), 1.8m /70.9 in (TELE)
Maximum Magnification Ratio
1:3.1 (WIDE) / 1:3.7 (TELE)
Filter Size
φ82mm
Maximum Diameter
φ93mm
Length*
209.6mm (8.3 in)
Weight
1,725g (60.8 oz) (without tripod mount) /
Tipod mount 155g (5.5 oz)
Aperture Blades
7 (circular diaphragm)**
Minimum Aperture
F22-32
Standard Accessories
Round-shaped hood, Lens caps, Tripod mount
Compatible Mounts
Sony E-mount
World's first large-diameter F2.8 ultra-wide-angle zoom with new scenery
The 11-20mm F / 2.8 DiⅢ-A RXD (Model B060) is for Sony E-mount compatible with APS-C size mirrorless interchangeable- lens cameras, which has unprecedented brightness of F2.8 through and outstanding portability. A large-diameter ultra-wide-angle zoom lens. The brightness of F2.8 is the world's first for Sony E mount. Since the shutter speed can be kept high even when shooting in dark places, you can take sharp pictures with less camera shake. In addition, special glass materials are effectively placed to satisfactorily correct various aberrations. Achieves clear image quality and high resolution performance. The size is so light and compact that you can't think of it as a large-diameter ultra-wide-angle zoom lens, and it is recommended not only for everyday use but also for travel destinations where you want to reduce your luggage. In addition, the shortest shooting distance of 0.15m at the wide-angle end and 0.24m at the telephoto end has been achieved, allowing you to get as close as you want to the subject. The AF drive is equipped with a high-speed, precise stepping motor unit RXD (Rapid eXtra-silent stepping Drive). A simple drip-proof structure and antifouling coat are also used, making outdoor shooting safe. From everyday life to travel destinations, everything you see is your work. Footwork This lens, which is light and allows you to take a single shot with a large aperture, expands the enjoyment of taking pictures.
Specifications:
Model
B060
Focal Length
11-20mm
(for full-frame mirrorless format: 16.5-30mm equivalent field-of-view)
Maximum Aperture
F2.8
Angle of View (diagonal)
105° 20′-71° 35' (for APS-C mirrorless format)
Optical Construction
12 elements in 10 groups
Minimum Object Distance
0.15m /5.9 in (WIDE), 0.24m /9.4 in (TELE)
Maximum Magnification Ratio
1:4 (WIDE) / 1:7.6 (TELE)
Filter Size
φ67mm
Maximum Diameter
φ73mm
Length*
86.2mm (3.4 in)
Weight
335g (11.8 oz)
Aperture Blades
7 (circular diaphragm)**
Minimum Aperture
F16
Standard Accessories
Flower-shaped hood, Lens caps
Compatible Mounts
Sony E-mount