The Second Hero of Samyang Blockbusters: AF 50mm f/1.4 FE Lens
As you know, 5 new Samyang lenses will be released on every Monday for the next five weeks. One lens a week! The first one is Xeen 135mm T2.2 lens. Now here is the second hero of Samyang blockbusters: Samyang/Rokinon AF 50mm f/1.4 FE Lens. This Samyang AF 50mm f/1.4 FE Lens was announced in May 2016 along with FE 14mm f/2.8 autofocus lens for Sony full frame mirrorless cameras. These two new FE lenses are the first autofocus lenses made by Samyang, and these two new autofocus lenses from Samyang Optics will be sold under the "Rokinon" brand in USA.
Now the new Rokinon AF 50mm f/1.4 FE lens is avaiable for pre-order at B&H for $699 in USA and it will be released at the beginning of August 2016. The only real additional news is that the price in Europe will be 580 Euro.
Rokinon AF 50mm f/1.4 FE Lens: $699 at B&H.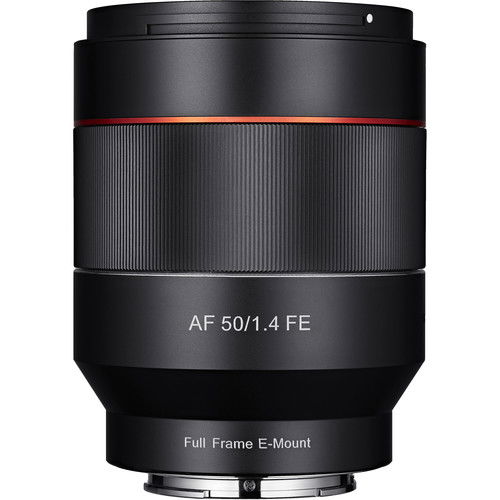 Bright Autofocus Lens for Full Frame Mirrorless Cameras
Brighten Your Sight
Samyang AF 50/1.4 FE is specifically designed to work in harmony with full frame mirrorless cameras in Sony E mount. The flow of light is devised based on the uniqueness of the distance from glass to sensor in mirrorless cameras to create optimal performance. Along with portability of mirrorless lenses, this new Samyang AF 50 lens is compatible with full frame sensors to deliver the wideness and sharpness of image to photographers.
The F1.4 of 50mm aperture is by far the brightest of full frame mirrorless lenses, offering a beautiful bokeh effect and the best quality images under various exposure conditions. Also the 67mm filter diameter brings the maximum amount of light into the lens to create the best work of light in photography.
Based on Samyang Optics' exceptional optical technology, Ultra Multi Coating and three aspherical lenses have been included among nine glasses in eight groups to minimise aberration and unnecessary light dispersion, delivering high resolution from the centre to the corners of the image.
You can read more at Samyang website.
Currently there are four 50mm FE lenses in the market, below are links to all current 50mm FE lenses:
Sony FE 55mm f/1.8 ZA Lens: $998 at Amazon, B&H, Adorama.
Sony FE 50mm f/1.4 ZA Lens: $1,498 at Amazon, B&H, Adorama.
Sony FE 50mm f/1.8 Lens: $248 at Amazon, B&H, Adorama.
Rokinon AF 50mm f/1.4 FE Lens: $699 at B&H.