Samyang Announced XEEN 16mm T2.6 Lens at Photokina 2016
Samyang officially announced the new XEEN 16mm T2.6 lens at Photokina 2016. The new XEEN 16mm T2.6 lens will be globally available in 2016 with a retail price of 2,200 Euros. The US price of this Rokinon Xeen 16mm T2.6 lens is still unknown. Now the Rokinon Xeen lineup includes 16mm T2.6, 135mm T2.2, 14mm T3.1, 24mm T1.5, 35mm T1.5, 50mm T1.5, and 85mm T1.5.
Available for PL, Sony E, Micro Four Thirds, Canon EF, and Nikon F mounts, the Xeen 16mm T2.6 lens is set to be announced by Samyang, and will also be sold under the Rokinon XEEN name. The XEEN Cinema primes lenses have been widely praised for their good performance at a very affordable price. More information about the Xeen 16mm T2.6 can be found here.
Samyang XEEN 16mm T.2.6 Key Features:
Fast T2.6 aperture
Covers 35mm full-frame (36mm x 24mm)
X-coating
Ultra-wide 106.9 degree field of view
Designed Specifically for Video
114mm Front Size
De-clicked Aperture with standard gear ring
Circular aperture with 11 blades for smooth bokeh
Smooth Focus Ring
Price: 2, 200 Euros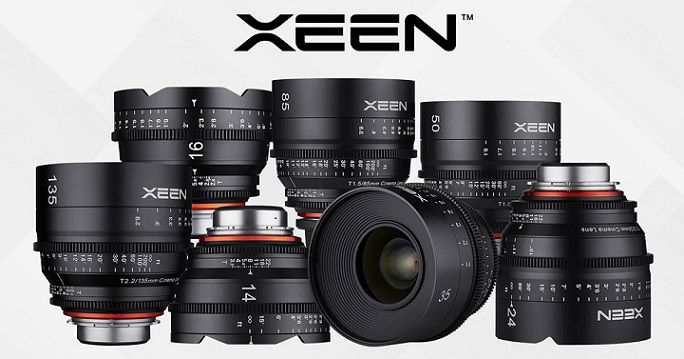 Press Release:
Samyang Announces XEEN 16mm at Photokina
September 19th, 2016, Cologne, Germany – Photokina, Hall 2.1 C035-D038 – The global optics brand, Samyang Optics (http://www.samyanglensglobal.com) announces a new professional video-cine lens, the XEEN 16mm T2.6. Along with the existing six lenses of 14mm, 24mm, 35mm, 50mm, 85mm and the recently released 135mm, the new XEEN 16mm T2.6 offers outstanding image quality from resolving power for 4K+ production for filming video and cinema.
XEEN is a specialized brand in professional video-cine lenses launched by Samyang Optics in 2015. XEEN lenses aim to deliver the increasing demand for multichannel networks, 4K broadcasting and independent film productions. The XEEN lenses are designed with Samyang Optics' know-how and have outstanding optical performance for 4K+ with the X-Coating Technology, ensuring maximum image quality to create a cinematic look. The 24mm x 36mm negative size allows XEEN to not only work with full frame cameras, but also with Super 35, APS-C and APS-H cameras. The lenses are available in five different mounts – PL, EF, F, E, and MFT and two different focus scales – metric and imperial units.
The 16mm is a specific angle that is loved by most of the directors of photography around the globe for its usage for wide,yet emotional, scenes in film and videos. In response to the high demands, Samyang has released XEEN 16mm T2.6, inheriting the renowned image quality of Samyang's wide angle series. This launch expands the XEEN line up to seven lenses from 14mm to 135mm, and is on the rise.
At Photokina 2016, Samyang will unveil a broad range of new camera lenses. Samyang is showcasing new advancements including the latest premium manual focus lens, autofocus lens, and manual focus photo and cine lens. Along with 16mm, XEEN 135mm T2.6 will also be demonstrated at the booth. This telephoto angle captures the sincere emotions of characters in films and videos. The exhibition will be a cornerstone for Samyang Optics to become a 'Total Imaging Solution' optics brand.
Created to deliver infinite possibilities, XEEN 16mm T2.6 will be globally available in 2016. The recommended retail price is EUR 2,200.
Via: Samyang