Panasonic Leica DG Vario-Elmarit 8-18mm f/2.8-4 ASPH Lens Announced
The new Panasonic Leica DG Vario-Elmarit 8-18mm f/2.8-4 ASPH Lens is now officially announced. The US price is $1099.99 and it is now available for pre-order at B&H. Shipping is scheduled to start in late May 2017.
Features
Professional high-quality LEICA DG VARIO-ELMARIT optics with Panasonic's Nano Surface Coating. (1 ASPH. ED / 3 ASPH. 2 ED / 1 UHR)
2.25X optical wide angle zoom 8-18mm F2.8-4.0 (67mm lens filter tread)
Durability metal body for various weather conditions (Splash proof / Dustproof / -10C Freeze proof)
Fast focus tracking via a 240 fps AF drive
Micro Four Thirds compactness – Overall length approx.. 88mm, approx. weight 315g
16-36mm (35mm Equivalent)
Aperture Range: f/2.8 to f/22
One Aspherical ED and One UHR Element
Three Aspherical and Two ED Elements
Nano Surface Coating
Splash, Dust, and Freezeproof Design
Rounded 7-Blade Diaphragm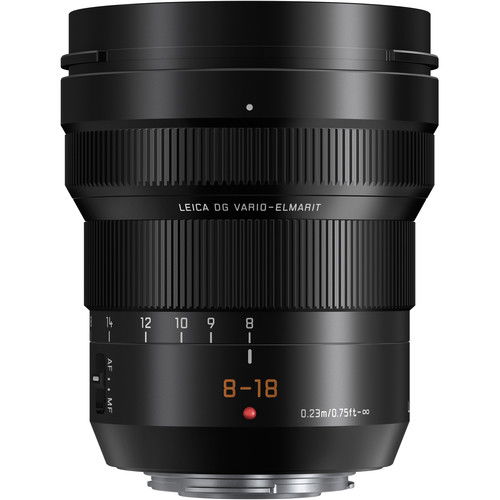 Details:
Press Release:
LEICA DG VARIO-ELMARIT 8-18mm / F2.8-4.0 ASPH.
Covering 16 mm Ultra-Wide Angle to 36 mm (35mm camera equivalent)
Newark, NJ (April 18, 2017) –Panasonic is proud to introduce a new wide zoom digital interchangeable lens, the LEICA DG VARIO-ELMARIT 8-18mm / F2.8-4.0 ASPH. (35 mm camera equivalent: 16-36 mm) as the second lens to be introduced from its LEICA DG VARIO-ELMARIT F2.8-4.0 Series.
Covering a focusing distance from ultra-wide angle to super telephoto, this new LEICA DG VARIO-ELMARIT F2.8-4.0 series achieves exceptionally high descriptiveness for both photo and video recording and yet its size is compact. All lenses also take advantage of Panasonic's Nano Surface Coating technology to minimize ghosting and flaring. The 8-18 boasts a rugged, dust/splash-proof design and is freeze-proof down to -10℃ to deliver professional use under harsh conditions. The high-quality video recording capability is also one of the advantages of this lens series.
The new LEICA DG VARIO-ELMARIT 8-18mm / F2.8-4.0 ASPH offers a zoom range of ultra-wide16 mm to versatile 36 mm (35mm camera equivalent). It covers a variety of daily shooting situations, from dynamic landscapes to street photography. Taking advantage of the F2.8-4.0 high-speed performance, it is suitable for capturing starry sky or a night scenery. With a filter (67mm) such as ND or PL, this lens provides various expression in both photos and videos.
Comprised of 15 elements in 10 groups, the lens system features an aspherical ED (Extra-low Dispersion) lens, three aspherical lenses, two ED lenses and an UHR (Ultra High Refractive Index) lens. The use of these lenses effectively suppresses spherical distortion or chromatic aberration to achieve high resolution and contrast from center to corners.
The sensor drive at max. 240 fps enables to take full advantage of cameras with high-speed, high-precision Contrast AF. It also helps to reduce wobbling. Notably, the new lens excels in video recording performance. In addition to the silent operation achieved by the inner focus drive system, the micro-step drive system in the aperture control section helps the camera to smoothly capture brightness changes when zooming or panning. The optical design achieves exceptional barycentric stability to minimize image shifts during zooming. The AF tracking performance when zooming is also improved thanks to high-speed frame analysis for focus control.
Offered in sharp, metallic black, it stylishly matches the LUMIX G Digital Single Lens Mirrorless (DSLM) cameras.
The LEICA DG VARIO-ELMARIT F2.8-4.0 Series lineup will expand with additional 50-200mm (100-400mm, 35mm camera equivalent) telephoto zoom lens.
Via: DPReview
Read more: Best Micro Four Thirds Lenses