Fujifilm Instax Mini 12 Officially Announced, Price $79
Fujifilm officially announced the new Fujifilm Instax Mini 12 instant film camera. Available in three new colors: Blossom Pink, Mint Green, Clay White, Lilac Purple, and Pastel Blue. The US price is $79.95 and it be available around mid-March. Now the new Fujifilm Instax Mini 12 is available for pre-order at B&H, Adorama. Order now if you are interested.
Pre-order links:
Fujifilm Instax Mini 12: $79.95 at B&H, Adorama.
Key Features
Accepts INSTAX MINI Instant Film
FUJINON 60mm Lens with Selfie Mirror
Automatic Exposure and Automatic Flash
Dedicated Selfie/Close-Up Shooting Mode
Optical Viewfinder
Two AA Batteries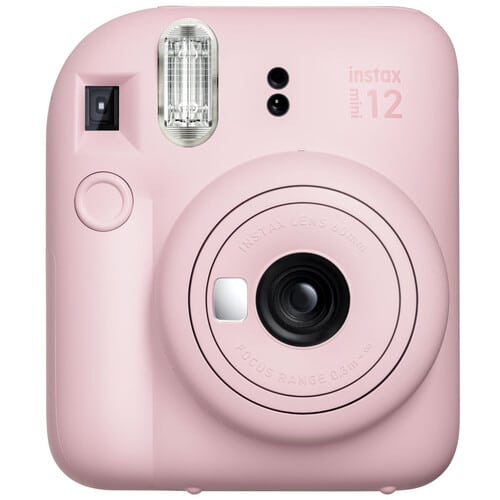 Press release:
Fujifilm Brings the Joy and Creativity With its New INSTAX MINI 12™ Instant Camera
Company Also Unveils INSTAX UP!™ Smartphone App.
VALHALLA, N.Y., March 2, 2023 – FUJIFILM North America Corporation, Imaging Division, announced today the introduction of its INSTAX MINI 12 Instant Camera (MINI 12). Following in the footsteps of the popular INSTAX MINI 11™ Instant Camera (MINI 11) launched in 2020, MINI 12 brings a new look and enhanced features for instant photographers, including parallax correction capabilities, automatic flash control, and a convenient multi-function twist lens.
With an airy, cloud-like, and almost "inflated" design/look, MINI 12 carries over the main features of MINI 11, including Close-Up Mode and Auto Exposure adjustment capabilities, but also adds the new Parallax Correction feature, in which the camera's viewfinder aligns with the lens when using Close-Up Mode, minimizing object shifts, to produce a centered photo. MINI 12 also features automatic flash control, which optimizes image quality in bright or low light situations. The lens structure is designed to provide intuitive steps both for powering the camera on/off and for accessing the popular Close-Up Mode with a simple twist of the lens.
"The INSTAX MINI 12 instant camera features a unique new design and a variety of appealing new color options," said Bing Liem, president, Imaging Division, FUJIFILM North America Corporation. "It includes many of our consumers' favorite features from the prior MINI 11 model, along with some new advancements that are sure to enhance our users' photographic experience. We're always impressed with the incredible creativity of our consumers, and we can't wait to see what they create with the MINI 12!"
INSTAX UP! Smartphone App Debuts
The FUJIFILM INSTAX team also announces the launch of its free, downloadable INSTAX UP! Smartphone App, designed for INSTAX users to digitally scan, import, organize, and store their photos in one place, regardless of which INSTAX instant film, camera or printer product they use.
With the INSTAX UP! Smartphone App, INSTAX users can:
Scan their INSTAX photos and store them digitally in one place
Organize their photos by category/list views for easy locating
Easily share stored photos and collections via social media or text
Import photos from other INSTAX Apps (the INSTAX MINI LINK App or the INSTAX LINK WIDE App, for instance) into the INSTAX Up! App
Coming soon, INSTAX users will be able to use the INSTAX UP! App to stay informed about the latest INSTAX updates, tips, and other creative content.
"Solutions like our INSTAX UP! App keep our consumers connected, engaged, and informed," said Ashley Reeder Morgan, vice president, Consumer Marketing, FUJIFILM North America Corporation. "INSTAX UP! will enable our users to organize, archive, and share their INSTAX photos with ease, helping preserve their special memories and inspiring them to create more."
Colors, Pricing, and Availability
The FUJIFILM INSTAX MINI 12 instant camera will be available in Blossom Pink, Mint Green, Clay White, Lilac Purple, and Pastel Blue. It is expected to be available in or around mid-March, 2023 at a Manufacturer's Suggested Retail Price of $79.95 USD and $99.99 CAD.