Best Entry-Level DSLR Cameras 2015
Best Entry-Level DSLR Cameras 2015. Looking for an entry-level DSLR camera? Here is the guide for you to find out the top rated entry-level DLSR cameras in 2015. The best entry-level DSLRs balance image quality, ease of use, and a low cost. Of course, they're generally more expensive than point-and-shoot cameras, with prices starting at about $500 for the body only. Nikon and Canon have led the way in this DSLR market for decades. If you are an entry-level photographer, choose an entry-level DSLR camera that meets your basic photographic needs now. Below are our picks for the best entry-level DSLRs photographers in 2015.
Nikon D5500
The new upper-entry-level DSLR Nikon D5500 announced at CES 2015, to replace the Nikon D5300 DSLR. Nikon D5500 provides a 24.2MP DX-format sensor with no optical low pass filter. It features a touch screen, which is a fully articulated 3.2-inch 1.37M-dot affair, as in the D5300. A flat picture profile is added, and the 1080/60p video specification is identical to its predecessor.
Support Camera Times, Buy from one of our affiliate retailers, Thanks !
Nikon D5500 (Body Only)

$796.95

Amazon | B&H | Adorama
Nikon D5300
Nikon D5300, the successor of Nikon D5200, is a great choice as a general-purpose dSLR. The image quality is slightly improved and the video mode has a serious improvement in the form of true 1080/60p HD video, making this camera great for recording slow motion footage in full HD. And Nikon D5300 provides improved LCD screen (3.2 inches), improved Battery life and an expanded ISO range compared to the Nikon D5200. And the new Nikon D5300 ($1,097 with 18-140mm lens) has built-in Wi-Fi.
| | | |
| --- | --- | --- |
| Nikon D5300 (Body Only) | $697 | Amazon |
Nikon D5200
Nikon D5200 is considered as the best DSLR camera under by CNET. It is a great choice for family and vacation photographers. The Nikon D5200 is easy-to-use with automatic shooting modes like Portrait, Landscape, Sports, and Child, but still offers more manual control for those who want it. While it's no longer the most recent model in Nikon's D5xxx lineup, the D5200 still offers excellent results and will appeal to photographers who don't need or want to spend the extra money for the latest model. It boasts a 24.1-megapixel sensor and a number of popular features you won't find on the D3300 like in-camera HDR and panorama modes, 1920 x 1080 Full HD video, a flip-out screen for movies, and advanced 39-point autofocus. Nikon D5200 is a capable D-SLR that delivers impressive image quality and continuous shooting at 4 frames per second.
Megapixels: 24.1
Sensor Size: 366 sq. mm
Weight: 17.8 oz.
| | | |
| --- | --- | --- |
| Nikon D5200 (Body Only) | $538 | Amazon |
Canon EOS Rebel T5i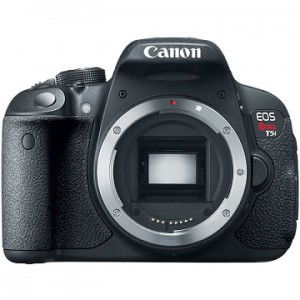 Canon EOS Rebel T5i, the successor of the Canon T4i and Canon T3i, gives photographers the capability to shoot amazing, professional quality photos and 1920 x 1080 Full HD video. A continuous shooting speed of up to 5 frames per second makes the T5i a great camera for capturing fast moving action and wildlife. And the most notable improvement is the new 18-55mm STM kit lens, which has continuous live video autofocus and better optics than the kit lens sold with the older Canon Rebel T4i. Nearly silent video autofocus when used with STM lenses.
Megapixels: 18
Sensor size: 332 sq. mm
Weight: 20.5 oz.
| | | |
| --- | --- | --- |
| Canon EOS Rebel T5i (Body Only) | $569 | Amazon |
Canon EOS Rebel SL1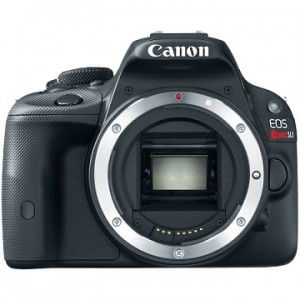 Canon EOS Rebel SL1 is world's smallest digital SLR and one of the lightest DSLRs ever made, weighing in at approximately 14.4 ounces without a lens. With the Canon EOS SL1, you won't get a flip-out screen like the Rebel models and the autofocus isn't quite as advanced, but many prefer the compact size for travel and other uses that require portability. Still compatible with the full range of Canon lenses, the SL1 is a great choice for photographers who want outstanding image quality, don't need a swivelling LCD screen, and want a small DSLR that can fit into many purses and small bags easily.
Megapixels: 18
Sensor Size: 332 sq. mm
Weight: 14.4 oz.
| | | |
| --- | --- | --- |
| Canon EOS Rebel SL1 (Body Only) | $489 | Amazon |
Sony Alpha 65 (SLT-A65V)
Sony Alpha 65 (SLT-A65V) is Sony's leading entry-level DSLR featuring a 24.3-megapixel sensor, impressive 10 frames per second burst shooting with continuous autofocus, Full HD video capability, and a swiveling flip-out screen. For those who shoot video, Sony's Translucent Mirror Technology allows for smooth and continuous live autofocus. Like the Nikon D5100 and D5200, Sony A65 can capture in-camera HDR, combining the exposures of multiple shots into a single image. The 3D Sweep Panorama Mode allows you to capture panoramic images in 3D, recording separate right eye and left eye images. And the 18-55mm and 18-135mm kit lenses are good options for beginners.
Megapixels: 24.3
Sensor size: 366 sq. mm
Weight: 22.1 oz.
| | | |
| --- | --- | --- |
| Sony Alpha 65 with 18-55mm Lens | $598 | Amazon |
Canon EOS Rebel T3i
Canon EOS Rebel T3i is an extremely popular entry-DSLR boasting an 18.1 megapixel image sensor and Full 1080p HD movie capability. The Canon EOS Rebel T3i delivers excellent video capabilities and image and video quality. The most notable new feature on the T3i is its articulating 3-inch LCD. If you're looking a budget DSLR and Canon is your preferred brand of camera, the Rebel T3i is a nice choice.
Megapixels: 18
Sensor size: 332 sq. mm
Weight: 18.2 oz.
| | | |
| --- | --- | --- |
| Canon EOS Rebel T3i with 18-55mm Lens | $498 | Amazon |
Pentax K-50
The Pentax K-50 is a fully weather-sealed D-SLR camera with an big optical viewfinder and fast burst shooting capability. The 16 megapixel Pentax K-50 is weather-sealed and built for serious outdoor use and is a great choice for outdoor photography. The top features of Pentax K-50 are: large pentaprism viewfinder, weather-sealed design, customizable controls and noise reduction, in-body shake reduction, very good high ISO performance, available in 120 different colors. A shake reduction mechanism reduces blur from camera shake, useful for shooting in low light conditions or with long telephoto lenses. It's available to order in any of 120 color combinations, but its video functionality is behind the times.
| | | |
| --- | --- | --- |
| Pentax K-50 (Body Only) | $479 | Amazon |
I hope you found the information useful, thank you for viewing.
Using above link(s) to make a purchase you can help support this site. Thanks!